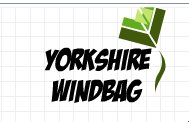 The Gaslight Club Xmas Special 2010
According to the good book 'the meek shall inherit the earth'. Well in this case, at the Gaslight Club Christmas special, the Holy Trinity Church in Leeds was full of the Earth's future owners t'other Monday. When Gary Stewart is the most outgoing artist on display you know that you are looking at a pretty shy and quiet retiring bunch.
Not that I'd have it any other way. What the acts on display lacked in stage presence and verbosity they more than made up for in talent. I was pondering on this subject the day after the gig. I'd only just read an interview with a bunch of lads from Slough going by the name of Brother. It was full of the usual sort of bluster about them been the future of rock 'n roll. Without even hearing a note I can already picture in my head what they are going to be like. Presumably there'll be loads of 'Wakefield/Leeds/Cleckheaton (delete as applicable) Let's Have it!' and gurning from the lead singer. The music will be the usual third generation photo copies of all the classics (The Beatles, Pistols, Stone Roses etc.).
Anyway back to the Gaslight special. The first act of the night were a rather nervous looking group of lads all bunched round two microphones with no instruments in sight. This was These Men and rather excitingly they are an acapella act. Forget all your pre-conceptions about the Flying Pickets and Barbershop quartets. Instead think Billy Bragg and the Beach Boys. The highlights for me were a Beach Boys cover and a song about Man City which pretty much summed up the two sides to this group.
Next up was the aforementioned Gary Stewart (I am contractually bound to mention him in every Yorkshire Windbag) and what can only be described as a supergroup. On double bass we had Adam Legend (who also appeared with These Men), on lead guitar Rich Huxley and on keyboard Chris from the Escapades. Ellen Smith also guested on a couple of songs. To be honest the set was only so-so as a result of some weird reverb on Gary's mike. It has to be said that the sound was a bit iffy most of the night and Rich Huxley also suffered from his guitar not been loud enough. Of course it could just be that he can't really play and just mimes!
After Gary we had the excellent Ellen Smith. Ellen is an artist that has really won me over. The first couple of times I saw her with her band the Escapades, in support slots, I was pretty indifferent to them. However a solo slot she did at the Gaslight club about a year and a half ago completely turned me round. She's not a showy singer but she's got a good voice and although she seems shy I sense a steely determination underneath. The songs are really strong as well. Not always immediately catchy but they grow with repeated listens. I think my favourite at the moment is 'Yours to Keep'.
Next up we have something a little different. Paul Thomas Saunders plays what us old gits would call 'shoe gazing' music. I suppose if you are looking for a modern comparison it would be something like Sigur Ros. He plays epic music with lots of guitar effects. My main criticsm would be that the music is a bit one paced and there is a lack of variety.
Last but certainly not least was Blue Roses. This is the name that Laura Groves performs under. Like Ellen Smith she appears quite shy but also like Ellen I think that this is deceptive. Swapping between piano and acoustic guitar she plays a short but strong set. The highlights for me are the song 'I Wish I' and an unexpected guest appearance by Paul Marshall. There's a hint of Kate Bush in her performance. If you haven't done so already I heartedly recommend that you check out the album (also called Blue Roses).
I should finish off with a quick plug for the Gaslight Club. Over 2 years old and currently based at Oporto on Call Lane in Leeds. Every week there are three acts which theoretically will be acoustic and you also get the talents of compere Gary Stewart. I say theoretically acoustic because over the last couple of years I've seen all sorts at the Gaslight from a Norwegian female acapella choir through every sort of singer songwriter (both local and from exotic locations such as Canada, San Francisco and Brighouse) plus all sorts of weird and wonderful acts covering most genres of popular music. On top of all that its free to get in! Take the plunge you are highly unlikely to be disappointed unless you are a tone deaf heavy metal fan (is there any other sort?)