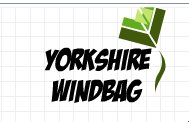 Michael Ainsley - Slip Smash
As I get older I find it harder to keep my enthusiasm for the new. I guess its natural that you gravitate to the safe and familiar. At work I find I'd rather stick to what I know rather than take on new challenges. Increasingly I'm keener to see the bands and artists that I'm familiar with rather than seeking out the new and unknown.
Anyway the other week I went to see Willy Mason at the Hop in Wakefield. Mason and the main support Sam Airey are both artists I'm familiar with. However the artist that caught my ear was the bottom support. A guy called Michael Ainsley.
It did help that my guitar teacher, Harry Rhodes, was accompanying him. So I had an extra incentive to listen. Immediately it was obvious that Michael is a charismatic character. He chats to the audience with an easy charm. The songs themselves were played on two acoustic guitars and were simple and strong with some really good melodies and interesting themes and lyrics. My favourite song title was 'The only living goth outside Hull' which gives you a flavour of his humor.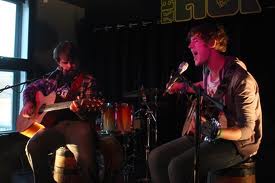 It turns out that I'd already bought Michael's album - 'Slip Smash'. Michael is a little like the Wakefield equivalent of Gary Stewart. A renaissance man of many musical talents with a finger in several different bands. As well as writing and performing an album almost completely on his own he also plays bass with a band called Imp and drums with the Piskie Sits (also another band that my guitar teacher plays in).
Anyway the album was purchased as part of a bulk purchase from Rob of Phillophobia records at an earlier gig at the Hop (four varied eps, singles and mini albums by various Wakefield artists for a tenner and then he chucked in an extra album by a band called the Lapels which was another of Michael's projects). The next time I had a free moment I dusted off the cd and had a listen.
Ok this isn't the future of rock and roll. Its nothing you won't of heard before. But what it is is a lovely bunch of tunes played with enthusiasm and honesty. In Simon Cowell's hands some of these songs could be big hits for whatever bunch of heavily produced, drilled and groomed stiffs he's pushing this week. But the soul of the songs would be gone. What makes them great is Michael's rough and ready vocals and the punky power that surges through the music.
This is an album that deserves to be heard. Its so obviously authentic and powered by love of music. Its clearly the work of a guy in love with rock'n'roll and a passion to get that music out there. There appears to be no pre-meditation or gimmicks at work here. The album cover doesn't even have the artist or title on it (just an unflattering picture of Michael apparently lying unconcious with what looks like several people standing over him).
Anyway you can purchase this album here: http://philophobiamusic.bandcamp.com/album/slip-smash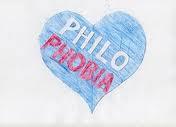 If you are interested in other releases on philophobia music (I can recommend the Piskie Sits Ep as well) go to their facebook page: http://www.facebook.com/philophobiamusic or their bandcamp shop http://philophobiamusic.bandcamp.com/