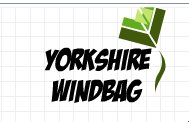 Hope and Social - Sleep Sound
This feels a little like nepotism using my platform (such as it is) on the net to once again talk about some of my favourite musicians. But sod it what's the point of having a your own website if you can't bang on about the stuff you enjoy. After all its not like the NME, Pitchfork, Drowned in Sound and all those bloggers out there aren't bigging up their favourite artists.
So Hope and Social have a new album out. I must admit when they announced on the 24th March that they were working on a new album and it would be out by the 13th May I was a little dubious. Anybody who has seen these guys live knows that their time management skills can be a little dodgy. Yes they do normally play on the day they say that they will but any starting times have to be taken with a pinch of salt.
Anyway despite my cynicism I can report that on Friday 13th May (what a brave day to pick by the way) I witnessed them play their album launch gig and I did indeed purchase an album (it was the 14th May by the time I bought it because as usual the gig was running a bit late!)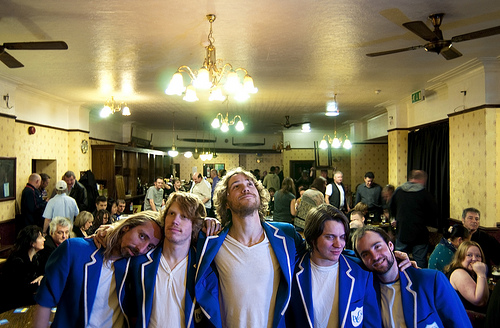 The album launch was held at the Brudenell Social Club in Leeds which is possibly one of my favourite venues in the world. Before the main act we had warm ups from a couple of supports. The first was Gary Stewart. I'm not going into great detail here. You know the drill he was excellent as always. Rich Hux is guesting on guitar at the moment and Sam Lawrence continues to add new bits to the songs with his mandolin, accordion and electric guitar. Not to mention his baritone backing vocals.
The second support I wasn't as excited about. It was a local bunch of lads called the Finnlys who I've seen before. So I stood there arms folded expecting to be unimpressed. However it has to be said after a couple of iffy bog standard indie tracks I started to warm to these guys. Look they aren't re-inventing music and you can see their influences a mile off (particularly the Arctic Monkeys) but their energy, tunes and quality of performance were infectious. Possibly the acoustics in the Brudenell helped. Previously I've seen them at the Hop and Escobar (Wakefield versions of said venues) where the sound quality takes second place to the ambience.
I'm not going to go into a blow by blow account of the Hope and Social performance. Needless to say they were excellent. A local choir joined in on a couple of songs. The brass section were involved in virtually every song and the set list was biased towards the last two albums. The performance was quite focused (well as focused as they ever are) and punchy. The more self-indulgent moments, that had begun to grate, are now minimised. I loved the kazoos and Rod Stewart invocations as much as anyone but it was time to move on and get back to what it was all about which is the songs. They are still not adverse to slipping unexpected cover versions (witness a Gary Stewart lead run through of 'You can call me Al' for example) and the humour is still there.
So what about the new album then I hear you ask? Well bear with me because I've only given it a couple of listens (and I've also heard about half of the songs live). So this review is going to be the sort of first impressions round up that will probably leave the reviewer with egg all over his face (nothing new there - I'm always a messy eater).
Beforehand everybody was telling me how this album wasn't as immediate as the last one (April) and more of a grower. I've got to say that I disagree. This album seems full of toe tapping tunes and is easily the most upbeat album that these guys have produced.
The tone is set by the opening song and title track 'Sleep Sound'. Almost unbelievably this is Hope and Social playing reggae and completely unbelievably it works!
As is always the case there are a few songs that don't really grab me ('Family Man' and 'You're the Lighter Side of Life' for example) perhaps I'll grow to appreciate them later. (I always remember when I first heard 'This is the Sea' by the Waterboys been gobsmacked that they'd picked the anonymous sounding 'Whole of the Moon' as the single - said anonymous sounding tune is now my favourite song of all time).
I think my favourite tune on there might be 'Cotton Wool'. I also like 'The Road Never Lies' which has a lovely piano part that I believe Gary Stewart played. The song that is on constant rotation in my mind though is the closing track 'Fast Train'. I do have a fear though that this will be one of those songs that I'll tire of.
The lyrics are quite interesting as well. Clearly Simon becoming a father is a big influence on the words and mainly in a positive way (although 'The Road never Lies' may be an exception). Apparently there is a political slant to some songs. I guess the one that I noticed is 'Back To the Green' which kind of reminds me of 'Won't get fooled again' in its concerns (I've probably misinterpreted it completely).
The arrangements sound good to me. I think the brass and string parts are much better than on the average indie band album. You know the ones who think that they need the big string parts cos that's what the Beatles did and just put on very generic stuff that sounds like its bought by the pound (prime examples Oasis, the Verve and Embrace). Instead you hear quirky little bits and the individual instruments. I'm guessing a lot of credit for this must go to James (for the brass) and Simon Goff (for the strings) and of course Ed and his recording and mixing techniques.
For more info on how to get the album, oodles of information about each song (including loads of technical bobbins from Ed - the lad needs to get out more) and to find out how you can see this excellent live band (or even book them to play your living room) follow this link: http://www.hopeandsocial.com/