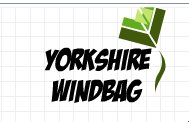 Gig Diary February 2012 part 2
Jon Moss/Subject Citizen @ Verve, Leeds
Over years of gigs I've seen all sorts of different levels of professionalism amongst live acts. I'm not sure I've seen anybody as drunk as Subject Citizen, though. He was reasonably endearing but pretty shambolic. His act owes a bit too much to Pete Doherty for my liking. The highlight had to be when a drunken group of Irish men wander down, to the little cellar bar where the gig is, and start heckling him.
Jon Moss is better known (but probably only slightly) as the lead singer of March of Dimes. Tonight we get a mixture of old songs and new. To be honest I always quite enjoy Jon's solo sets because with only an acoustic guitar behind him he doesn't have to strain his voice so much and you get a better idea of the quality of his songs. Tonight I particularly like March of Dimes' last single 'Sleeping Giant'.
Field Music/Stealing Sheep @ The Brudenell Social Club, Leeds
Here we are at another busy night at the Brudenell Social Club. Tonight's stars are Field Music who are the doyens of a thriving Northeastern music scene.
First though we get three women from Merseyside going by the name Stealing Sheep. One plays guitar, one plays percussion and one plays keyboard. All three sing. Initially they remind me of an early eighties post-punk band. The keyboards are bass heavy and with the drums as well the sound is a bit unbalanced. As the set progresses though I detect a more folky side to the music. There are three part harmonies a bit reminiscent of Mountain Man. Unfortunately the voices aren't as strong.
So onto the stage come Field Music. The brainchild of two brothers David & Peter Brewis. The music is reminiscent of other bands yet is unique as well. In common with their fellow Northeastern bands Maximo Park and Futureheads there is an angular quality and tunes change time signatures just as you are getting comfortable. They are also reminiscent of XTC, Talking Heads and Wire in different ways. They also have a slick Beatles side to them like an alternative ELO.
If I'm honest I don't enjoy tonight as much as the previous two occasions I've seen them. They've got a new set now based around their new album. Obviously I'm unfamiliar with the new songs. But I'd only heard one song by them when I saw them on the first two occasions. If I'm being honest the new material doesn't grab me like the older stuff. Still I've bought the album and we'll see if it grows on me.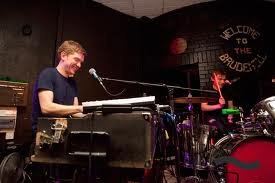 Ellen and the Escapades/Joe Banfi/Gary Stewart/Hollie Cooper @ the Shakspeare, Sheffield
Tonight was a first for me and Mrs Windbag. We were on the guest list! I felt pretty sheepish approaching the guy at the door. It was a pretty painless process though. Ellen and Mrs Windbag had organised it all.
We almost missed the first act sitting in the bar downstairs chatting. It was gratifying to see Gary Stewart dashing up with everybody else to catch the first act. Obviously somebody who remembers how it is been the first on the bill. Hollie Cooper is a pleasant enough singer who trades mainly in covers. She has at least one original song though which she says she wrote for a school exam.
Gary Stewart was his usual self. Plugging his new ep incessantly but almost failing to play anything off it until the last song.
Joe Banfi was backed by a bassist (her first gig) and celloist (his third gig). Despite the lack of experience I was pretty impressed by them. Joe had an interesting voice and a confident stage presence. The backing musicians weren't overbearing and just right. I particularly liked the cover of 'In the Pines ' (an old Leadbelly song made famous by Kurt Cobain).
Suprisingly Ellen and the boys endured a dodgy start. Chris on keyboards was having problems with his sustain pedal (no I don't know what it is either) and so Ellen had to improvise an opening number without him. It all went ok though and Chris was soon ready. Ellen and the Escapades are one of the most consistent acts I've seen and tonight was no exception. The only blot was the sound which was beyond their control. Something about the acoustics in the room made the drums seem overloud even though they weren't miked up. Still the audience didn't seem to mind.
First Aid Kit/Samantha Crane @ the Wardrobe, Leeds
Going to a gig on the strength of one song is something I've done on a number of occasions. Sometimes this approach can lead to disappointment. I remember going to see the Wannadies years ago in London because I liked one single (was it 'You and Me Song'?). They were a big disappointment (although I seem to recall there were some good supporting acts). Coinicidentally First Aid Kit are also a Swedish act and I've only heard the one song ('Emmy-Lou').
This is the first time I've visited the Wardrobe as a gig venue. I have previously drank and ate in the bar upstairs. Its a good sized room and the acoustics don't seem too bad. However I don't like the layout with seats around the edge and then a dance floor. Probably more suited to a discotheque (we do still call them discotheques don't we?).
Samantha Crane is the opening act and she's from America. She is talented and personable but a little bland. I see so many singer songwriters with acoustic guitars and she doesn't stand out. Partly its the size of the gig. I think if I'd seen her in a little bar (such as Oporto) I would have been more appreciative. To give her credit though she does get a number of the audience to participate in a sing-song which implies she went down well.
First Aid Kit hit the stage. There are three of them. Two girls playing acoustic guitar and keyboard backed by a boy playing drums. The two girls are undoubtedly sisters and I think the drummer may be their brother. To complete the family package Dad is the soundman (possibly Mum was the roadie but she was never mentioned).
The music itself is countryish sort of pop. There are loads of lovely vocal melodies (three part ones sometimes with the drummer joining in). They dispense with the hit single after only a couple of preliminary numbers. Thankfully this is not the high spot of the show. If anything I think they have loads of better songs. I feared it would all be twee and sugary sweet but there was a bit of a harder edge than I expected. An encore cover of Patti Smith's 'Dancing Barefoot' hinted at broader musical influences than a diet of sixties and seventies country.
The Coma Girls/Mat Wale/Mark Jones @ People Are Strange @ Green Room, Sheffield
Tonight we are in Sheffield to see a couple of old friends in action who we've not seen much of lately.
Mark Jones is slightly late which is pretty rock'n'roll. Unfortunately his excuse is putting the baby to bed which isn't very rock'n'roll. Its tempting to give Mark a 'Judas' shout since he's now toting an electric guitar instead of his trusty acoustic. As usual Mark's set mainly comprises songs that I'm not that familiar with. He's never been one for resting on his laurels as far as songwriting is concerned. He was always pretty witty between songs but now the satire seems to have extended into the songs as well with my favourite been a ditty about writing a song on one chord. He finishes off with an improvised song on the subject of various audience member's nightmares. The sort of thing that is hillarious if you are there but doesn't work so well in the telling so I won't.
Sadly Mat Wale is a victim of rude behavior on my part. I'm meeting up with several people (including the aforementioned Mr Jones) that I haven't seen for literally years. So I become engrossed in conversation and miss most of the set. What I noticed sounded pretty fine. Americana influenced acoustic songs with one song reminding me of REM.
The Coma Girls were formed at a jamming session during the drummer's (Duncan ex of Tiny Dancers) birthday party. The main songwriter is Chris Hickin who used to play alongside Mark Jones a few years ago in the Freeze Out. Rob Lee another pal of ours is also playing guitar and taking a few lead vocals as well. The final member is a bassist who's name I sadly didn't catch. The songs are pretty much in the style of the songs that Chris used to sing with the Freeze Out. They sound pretty much like a combination of Wilco, Springsteen and Ryan Adams. Its amazing how Chris has come on as a front man from the 'Freeze Out days'. Rob's songs are more countryish in style which adds a bit of variety to the sound.