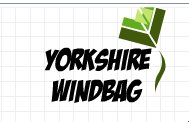 Gig Diary March 2012
Adam Holmes & the Embers/The Gillyflowers/Paul Gilbody/Donna Maciocia @ The Voodoo Rooms, Edinburgh
Me and Mrs Windbag went on a short break in Edinburgh. So of course we went looking for a gig to go and see. Gary Stewart tipped us off about a few venues to check out and Mrs Windbag used trusty old Google to come up with a likely sounding show. Of course everybody sounds very good in their internet write ups. For whatever reason (life been too short mainly) we don't bother listening to any of the acts beforehand. Anyway I like surprises.
There are delays to the show (a missing soundman) and so we sit upstairs in another bar having a pint while we wait. Typically having made an effort to get there on time we then miss the official opening and as we arrive the first act is already on and most of the seats are taken. As luck would have it we manage to squeeze in next to an oldish bloke we had seen upstairs and we are all set.
Donna Maciocia (I looked her up on the internet afterwards - I wasn't going to remember or even know how to spell that name) was on stage (as previously mentioned). A very engaging performer she was as well. Accompanied by her own ukelele playing she was very accomplished. She also dragged up her flat mate to sing with her and on the final song Paul Gilbody also came up to sing and add some realistic sounding drum noises.
Next up was the aforementioned Paul Gilbody. He's one of those singer songwriters who's too tight to hire a whole band and so loops himself. But seriously though this is pretty impressive when the artist pulls it off and Mr Gilbody pulls it off. He's a pretty annoying character in that he's a great singer, excellent guitarist and a talented songwriter. His song about raw fish, 'Sushi', makes me smile with some his rhymes. To balance all this out though I have to deduct him a mark for occasionally sounding like Sting!
Anyway I think its time to tell you a bit more about our neighbour - Bill. Bill is in his sixties and has varied musical tastes. He's also drinking red wine from bottles that he's smuggled in. I guess five quid is expensive for a glass of red wine particularly when you are necking it at the rate Bill is. He's a pretty interesting character telling me about the Fence Collective and a recent visit to the Brudenell Social Club. As the alcohol goes down he loses what few inhibitions he had. He begins to dance and sing along with the bands and is a good part of the entertainment.
Back to the bands. Next up are the Gillyflowers. Suddenly the stage is awash with band members. There are eight people on stage in total including two backing singers. They make a tremendous and melodic racket. They play good time country rock pretty much in the style of the Barker Band or maybe even Lone Justice (for you older people out there). Apparently the lead singer is Stuart Adamson's daughter. The only thing that loses them a mark is the smug look on the lead guitarist's face (although it has to be said he is pretty good).
At this point I'm wondering how our final act can top the Gillyflowers. The other people we are sitting with are pretty confident though. They are much quieter than Bill but know their music (we discuss the old punk bands that they used to go to see).
Adam Holmes and the Embers take the stage. Adam himself seems quite a young lad but his backing band with the exception of the keyboardist look to be in their fifties. At first Adam's voice seems quite unassuming but after a while he grows on you. Musically I would say he's more influenced by old soul records than old folk records. His vocal style is quite conversational and reminds me of Paolo Nutini with a bit of Kris Drever chucked in (Mrs Windbag reckons Willy Mason as well). His band are very impressive as you would expect from a bunch of older heads.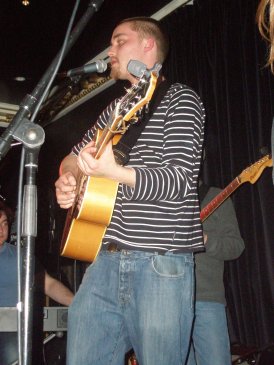 All in all it was a pretty special gig. In fact I'm saying its gig of the year so far!
Mark Lanegan Band/Creature With The Atom Brain @ Met University, Leeds
Mark Lanegan is somebody who I've been a fan of for a long time. He's pretty prolific. I first came across him as lead singer of the Screaming Trees who were one of the better bands to come out of the grunge scene in the early nineties. His solo stuff was a revelation though. His early stuff reminds me of people like Nick Cave and Tom Waits. Since then he's done tons of stuff collaborating with Greg Dulli, Isobel Campbell (who used to be in Belle and Sebastian) and Queens of the Stoneage amongst others. This tour is promoting his new solo album.
Anyway first up we have the support act. The singer mumbles something about coming from Belgium. I got their name from the internet after the fact. Anyway they are quite interesting. They play a slowish sort of heavy rock. Low on melody but there are some pretty good grooves.
It isn't long after Mark Lanegan's set has started that I begin to feel a bit underwhelmed. Basically a lot of the songs are off his new album and they are all ok but there are no dynamics or light or shade. Instead just a plodding 4/4 drum beat and standard sludgy heavy rock over the top. Lanegan himself has got a great rock voice but it is very one-dimensional. Add in to that the fact that he has no stage presence or charisma. Thankfully he throws in the odd different song to keep us interested. In fact he saves the best for last with a powerful three song encore.
Overall though I would say I've now seen him but I won't be rushing back.
Matt Baxter/Roger Davies/Boss Caine @ The Gaslight Club, Oporto, Leeds
Its quite a few months since I've shown my face at the Gaslight club so I'm glad to see that its still going. For those of you don't know its a weekly night at Oporto loosely based around acoustic music (although all sorts of acts have played). Gary Stewart is the regular presenter and its run by Dead Young Records.
Tonight Gary has a finger injury and so he's not playing. So we are straight on with our first act - Boss Caine. This is basically the stage name for Daniel Lucas who hails from York. He is a competent performer with a good deep voice. His songs however are not the strongest. Pleasant but not that striking.
Next up is Roger Davies. Roger is from Huddersfield and is very much an old style busker. He plays deceptively simple songs which stick in the brain long after he's gone. If ever a writer took the advice to stick to what you know to his heart then Roger Davies is the one. His songs cover Brighouse, Huddersfield, Stephanie (a girl who broke his heart) and Peter Brook (an artist from Brighouse) amongst other subjects.
Finally we have Matt Baxter. He claims not to be much of a songwriter and so his set mainly consists of covers. He is an entertaining performer and clearly a very talented guitarist and with a good voice to boot.
Before I sign off though I have to mention the audience. Several people turned up who felt it was appropiate to talk through each of the acts. To me this is just plain rude. The tricky thing is though that because the gig is free it is much harder to get people to be quiet. On the other hand I doubt if the Gaslight Club would last for long if they started charging. A tricky one.
The Waterboys @ the Town Hall, Leeds
It was only a couple of months ago that I wrote a fawning piece about how much I love the Waterboys (actually prompted by buying the tickets for this very gig). So could Mike Scott and his merry gang live up to my expectations?
The gig started very promptly at 8pm which meant I was still trying to find my seat when the music started. We were in the second row and the best way to get to our seats involved walking past the stage itself which is probably the closest I've got to Mr Scott since 1986 when I was down the front at the Tiffanys Ballroom in Newcastle. It has to be said that he is not ageing as well as some of his contemporaries. He looks like the outcome of some bizarre genetic experiment involving Mick Jagger's lips and Neil Young's hair. To be fair though his voice and playing are as good as ever.
We knew in advance that there would be two sets. One of vintage material and one from his latest album 'An appointment with Mr Yeats'. I must admit to raising an eyebrow when I realised that he is playing the Waterboys classics first. Perhaps not the wisest decision from a crowd pleasing point of view but I applaud his attitude. After all he is promoting new music which is in stark contrast to the likes of the Stone Roses, Happy Mondays, Blur, Pulp et al who are quite content to re-hash old glories one more time.
There are some interesting selections in the first set. The first five songs are drawn from the first two Waterboys album - all written nearly 30 years ago. The band are in fine fettle and Steve Wickham's fiddle takes the place of Anto Thistlewaite's sax on the oldest songs.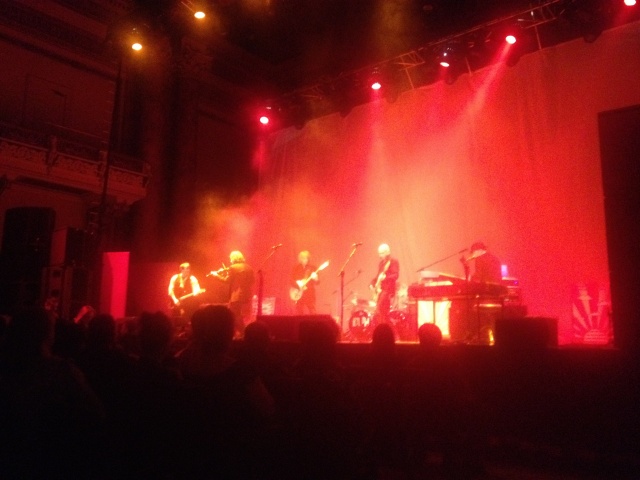 I wasn't sure what I would make of the second set. I think the new album isn't bad and features one or two potential classics. As it is I'm bowled over with the live performance. Once again the band are the making of the material. My favourite number is probably 'Mad as the mist and snow'. This ends with a musical duel between Steve Wickham and the keyboard player James Hallawell both wearing strange masks. In the background Mike Scott darts around in an even stranger mask which appears to comprise three copies of his face each with a different expression.
Just to show that he hasn't completely lost his crowd pleasing style the encores (two of them) comprises more Waterboys classics from days of yore.
Sam Airey/Paul Thomas Saunders/Emily & The Woods/Grant K Fennell @ Holy Trinity Church, Leeds
Grant K Fennell is a big bear of a man, his guitar looks like a toy in his hands (I think it is quite a small guitar though). His voice is slightly higher than the gruff voice you would expect from his stature. His songs are interesting and not completely orthodox. I don't know if you can tell anything about a singer by their choice of cover. In any case he covers a familiar sounding Van Morrison song which I think comes from his 'Astral Weeks' album.
Emily & the Woods is actually just one girl with a guitar. She does a cover too. She does 'The Sweetest Taboo' but doesn't actually introduce it other than to say its a cover. I googled it and apparently its by Sade. Anyway Emily's own songs are quite pleasant in quite a soulful way. Her guitar playing is reasonably rudimentary and she sings with an accent that puts me in mind of Bombay Bicycle Club for some reason.
Paul Thomas Saunders I've seen before. This time though he's almost solo just accompanied by a guitar player who just really provides a backwash to the songs. His vocals and guitar are drenched in reverb and the songs are very reminiscent of early nineties shoegazing bands. The sound is very pleasant but after a while you can't help but think he's a bit of a one trick pony.
Sam Airey reveals to us that tonight is a night of firsts. This is his first headlining gig and its also his first gig with a band. The band consists of Emma on cello, Joe on drums and Whiskas on guitar. Sam explains that Joe will be mainly producing 'whooshs' and Whiskas will be providing 'widdly' noises.
I've seen Sam on many occasions before but apart from one time with Emma on cello I've always seen him solo before. At first its a bit jarring to hear the drums on familar songs. But after a while I start to get used to it. His stately and sombre songs sound as good as ever. With a band behind him I notice how much time he spends re-tuning his guitar between songs as well!
At the end we get another first - Sam's first encore. He's run out of songs so as to resort to an old one. He unplugs his guitar and comes off the stage to sing in the crowd. Inevitably he forgets the words part way through the last verse but every body is forgiving as he dives into the chorus.
O'Hooley & Tidow/Gary Stewart @ All Hallows Church, Leeds
Another gig at another church. People are going to start thinking I've gone all religous. This is a very different church though. Holy Trinity in the centre of town is as you would expect a church to be complete with uncomfortable pews, cold stone walls and really high ceilings. All Hallows is a much more modern church with folding chairs (thank goodness) and a wider lower roofed space.
Anyway enough about the churches - this is my gig diary not my architecture diary!
So its Gary Stewart up first and its his first gig back playing guitar after suffering a nasty gash on his hand. He admits beforehand that he's a bit rusty but it doesn't sound too bad. A couple of timing issues and a problem 'hammering on' during 'In the Pines' are the only things I notice (and I probably wouldn't have noticed the latter except Gary pointed it out himself).
So onto O'Hooley & Tidow. Belinda O'Hooley used to play piano with Rachel Unthank and the Winterset. Heidi Tidow is her romantic and musical partner. They describe what they do as folk music. I think that undersells it slightly. They are at their most folk-like when they sing acapella but on the whole its Belinda on piano and the pair of them on vocals. This is very far from the worthy one finger in the ear; acoustic guitar plucking; ship wrecks and other tragedies stuff that you expect from folk music. I would compare them more to something like a more restrained Regina Spektor or even somebody like Kate Bush. In other words firmly in singer/songwriter territory. The tunes are strong and the subjects varied - although there are a lot of mentions of various birds throughout the set from blackbirds through storm peterels to robins.
Invevitably there are similarities with Belinda's old gang - the Unthanks - especially since both are piano driven. However O'Hooley and Tidow are a more light hearted bunch and probably more political as well (with a small p). The majority of songs are self written as well which isn't the case with the Unthanks. I think overall O'Hooley & Tidow compare very favourably.
The gig itself was organised by a group of people who put on regular shows at the All Hallows and it was very well done - with good sound and a well stocked honesty bar including two barrels of real ale.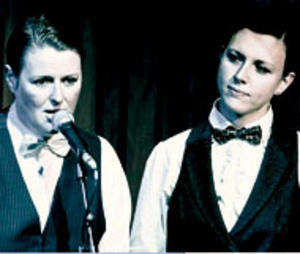 Heartships/Cavebirds/Thomas J Speight/Spirit of John/Ross Day @ Communion, Oporto, Leeds
Currently it feels a bit like Communion are taking over the world. As I understand it Communion is a kind of franchise with some kind of Mumford and Sons connection. So basically behind the shiny new badge I think you'll find its business as usual at Oporto with Dead Young Records doing the promoting.
First act Ross Day is a pretty boring acoustic guitar toting singer songwriter.
Spirit of John are one of Adam Legend's many bands. As you may know Adam is a double bass player of some reknown. This band are actually generating some interest in the NME with staff from said musical inkie attending the gig primarily to see Spirit of John. The band themselves seem unperturbed by this turn of events and its business as usual. The duo knock out their usual bunch of frenzied country rockers. Kieron O'Malley turns up and plugs in for the last few songs with his violin. Apparently he doesn't rehearse with them. He just susses out the key and joins in.
Next act Thomas J Speight is Mrs Windbag's tip. She came across him a couple of weeks ago and has been raving about him. I must admit I was expecting him to be a bit rubbish (sorry) but actually he's pretty damn good. The fact that he has a female accomplice and doesn't take all the limelight is a good sign. His songs are strong and he has a good personality. He asks us if we want 'an awkward song' or 'an electric one'. Inevitably he ends up doing the awkward song. Which involves him unplugging; jumping into the crowd and performing. I know a lot of acts do this these days but still he does it with aplomb. His partner in crime, Laura, is a great singer as well.
Cavebirds are a band I've heard of but never heard. They turn out to be pretty good. They are a four piece - drummer, guitarist, singer and bassist/keyboardist. They are quite dancey and bits remind me variously of Wild Beasts, TV on The Radio & New Order. There is a great energy about them and I love the singer's 3 piece brown pinstripe suit although Jenny doesn't agree.
Anyway the next interlude allowed myself and friend Nat to meet up with a local celebrity. I suspect he was making a play for Nat. When I arrived back from the bar he was dancing in front of her. After some conversation he showed us his recently received award and it dawned on me that we were in the presence of Larry the News guy from Radio Aire. Confession time I've never heard him on the radio but I've read his column in the late lamented Leeds magazine and even seen him performing live in his guise as a singer-songwriter. Anyway its quite an amusing distraction before the main act. I'm left wondering if we will get the promised name check on Radio Aire - probably not as he was very drunk.
Heartships is another demonstration that all the good band names are gone. In any case though the music more than makes up for the name. There are loads of them on the stage - two guitarists, a keyboardist, a bassist, a drummer and a singer. They proceed to make a great racket and leap about. They've also bought along 10 or so admirers who gather down the front of the stage and leap about as well. They are kind of post-rock I guess but have some great melodies.
The Sailmakers/JBW & the Rakers/Jasmine Kennedy/The Asa Hawks @ 360 Degree Club, The Library, Leeds
The 360 Degree Club is yet another music night in Leeds. I think I've only attended it once in the past but its great to know that this sort of thing is out there supporting local music.
Allan Raw who is a DJ on Radio Leeds is in attendance tonight and the acts are been both recorded and filmed for 'BBC Introducing'. I believe Allan is also spinning the discs between bands. So presumably he's responsible for possibly the weirdest track I've ever heard. Over a dancey beat we get various samples from 'Antiques Roadshow' alternating between snippets of the theme tune of said program and snatches of dialogue from the same program.
Anyway on with the bands. First up were Asa Hawks. I've seen this mob before. They are a female fronted five piece featuring a banjo player. They play pretty good country rock which is only let down by the singer's voice which to be honest isn't strong enough. They don't help themselves either by attempting a cover of Love's 'Alone again or'. The banjoist (playing acoustic guitar on this song) nails his part but the rest can't really conjure up the magic required.
JBW & the Rakers are a three piece consisting of a vocalist, a guitarist/vocalist and a drummer. With only two instruments their sound is a little thin. I know this kind of set up works for the likes of the White Stripes but the guitarist, although talented, doesn't have enough 'beef' in his sound. They don't really do songs either - more bluesy jams. Plus the main vocalist isn't half as good as he thinks he is. The description on the internet describes them as soulful - really he's more of a pub shouter.
Tonight's crowd is a bit rowdy and mainly seems to consist of friends and relatives of the main act, the Sailmakers. So Jasmine Kennedy who is a very quiet singer-songwriter type was always going to struggle. Allan Raw actually stops her mid song at one point so he can attempt to get the audience to shut up. Still Jasmine is very professional and doesn't seem fazed. At last we seem to have somebody who can sing. Unfortunately I'm not that struck on her songs. They are samey, pretty quiet and a little too selfy-pitying. Perhaps they're the sort that will improve with repeated listening. Even a cover of Abba's 'Mama Mia' is performed in the same style (although kudos to her for doing more than just a straight copy).
So finally to the band that I've actually come to see. The Sailmakers hail from Keighley and I've had half an eye on them for a while since I happened upon their myspace page. I actually gave them a review in an old Yorkshire Windbag. They seem to have added a female co-vocalist since I last listened. If I'm honest she doesn't bring much to the party. Its obvious why they've done it though because the main singer doesn't have that strong a voice. The music is, as I remember, very reminiscent of a band called Shack. All the band are very competent and I quite like the songs but if I'm been honest they are a bit samey. Its appears that they've picked one aspect of Shack and decided to base their act on that.