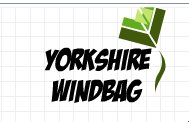 Gig Diary April 2012
Hope and Social/Joseph and David @ Holy Trinity Church, Leeds
I seem to spend more time at church than the average vicar these days. So here we are to see Hope and Social's latest venture. As usual this seems to have grown out of a challenge they set themselves. Last year they put on a one-off acoustic gig at Richmond with everybody swapping instruments and re-arrangements of familiar songs. Now the idea has expanded into a whole album and a mini tour to support it.
First up though we have Joseph and David. These lot first came on my radar when I caught them supporting the Travelling Band in late 2011. David I've seen before playing solo and in his other guise of barman at Oporto. They are based round the strumming and singing of David and the piano playing of Joseph. The songs are delicate, folky affairs with a little touch of gospel here and there. The duo have a varied collection of muscians around them - this time an accordionist, trombone player and Kieron O'malley on violin (he tells me later that he doesn't rehearse with them he just turns up and plays). James and Simon Goff from Hope and Social also join in at some points. As seems the norm (having seen them twice) they finish off by unplugging and jumping off the stage for their final song. Although not the finished article by any stretch of the imagination I can see these guys growing into an excellent band.
So onto Hope and Social. As usual a great performance ensues. Its interesting seeing the dynamic of the band change with these acoustic performances. For example Rich the guitar hero gives way to Rich the versatile musician - he plays ukulele, double bass and piano and even takes a turn on lead vocals. Gary Stewart comes into his own as well. He's allowed to roam from his drum kit and shows off his guitar playing as well as taking turns on piano and ukulele. Some of the arrangements are quite inspired as well. My personal favourite is 'Living a Lie' which is changed into a kind of chant over a heavy percussion barrage.
So another example of why Hope and Social are one of the most inspiring bands around at the moment. They combine musicianship, songwriting, showmanship and creativity in one blue jacketed package.
Wilful Missing/Spinning Plates/Pip Mountjoy/Gary Stewart @ The Gaslight Club,Oporto, Leeds
Mrs Windbag is working nights so I'm at a loose end and decide to pop down to the Gaslight Club to check up on what's going down on the Leeds acoustic scene.
After a short set from Gary Stewart we get our first act of the night. According to the interweb Pip Mountjoy is a seventeen year old singer songwriter. I must admit that she had the presence of a much more mature artist. Her songs were pretty solid and she backed her assured singing with simple effective guitar arrangements.
Spinning Plates are from Glasgow and there are quite a few of them for the small stage in Oporto. They include a cello and trombone alongside the more conventional guitar, bass, keyboards and drums. To be honest I wasn't that struck by them. Their songs didn't really grab me and I was a bit disappointed.
Finally on came Wilful Missing. To describe them as Bradford's answer to Mumford & Sons would be a little unfair because they have been going at least as long as that gang of southern pseudo-folkies. However there are similarities with the three part harmonies and the stomping songs. Having recently bought their debut album I was pleasantly suprised at how powerful they were live. That's not to say that the album isn't good but live they seem to have an extra dimension. They cram a lot of energy into their set and thirty minutes seems too short.
The Futureheads/The Cornshed Sisters @ The Wardrobe, Leeds
I'm not entirely sure why I was so keen to come to this gig. After all I'm not a huge Futureheads fan. That's not to say that I don't like 'em. I've caught them live in the past and have a few of their albums. Still I kind of felt that they were a little on the downslide and their time had passed. Something about the idea of an acapella and acoustic performance really captured my imagination though and so I got the tickets.
First up are the Cornshed Sisters. This band have connections to Field Music (one of them is married to one of Field Music and they are on the same record label) but are a much more traditional affair. They are an all female four piece who all sing and play guitar, ukulele and piano. The songs are folky and there is a mixture of covers (including a good version of Prince's 'When Doves cry'), originals and old traditional songs. They are very engaging with a passing resemblance to the Unthanks (due to the folk songs and north eastern accents).
So then its time for the Futureheads. I must admit that I was a bit nervous that a full set of acapella and acoustic songs would be a bit boring after a while. As it happened I couldn't have been more wrong. Right from the opening salvo - which is a brilliant rearrangement of Richard Thompson's 'Beeswing' (which is a great song anyway) - the set is a tour de force. The singing is excellent by all four members (if you think back to things like 'Hounds of Love' you know they always had it in their arsenal) and the song selection is very good. We have Futurehead classics, inspired covers (as well as 'Beeswing' we get Kelis and Black Eyed Peas songs) and of course traditional folk numbers. The acapella songs are varied in style. Some, such as 'Beeswing', have quite complicated arrangements with 'round' singing and the like. Between songs the four members are very at ease bantering with the crowd and expertly dealing with hecklers and annoying chatterers without causing offence. Ninety minutes pass in no time and after a brief encore they are gone leaving the audience to attempt their own version of 'Hounds of Love' (a song they omitted from their own set).
So overall a triumph and hopefully something that will reinvigorate them. I'm reckoning this is my gig of the year so far!
Arthur Rigby and The Baskervylles/Joseph and David/Fran Rodgers/Gary Stewart @ The Brudenell Social Club, Leeds
I've stated my love of the Brudenell before but tonight I was put on the spot and asked to profess and justify my feelings about the venue. I had a microphone thrust at me by two youngsters from East Leeds FM. I always hate been in that situation but I think I gave a honest view.
Anyway we are here to talk about the music not my debut radio performance (such that it was - thankfully it was anonymous). Tonight is the launch of Arthur Rigby and the Baskervylles new ep. Its also a chance for a lot of Leeds based talent to perform on the Brudenell Stage. All promoted by Nick of Dead Young Records/Communion and his gang.
Tonight is the first performance of the year of Gary Stewart with backing band. He unveils his latest signing - James (of the Escapades) on drums. This is a veritable Leeds supergroup since we already have Rich (of Hope and Social) on guitar, Adam (of Sprit of John, X Ray Cat Trio, SSSS and many others) on double bass and Sam (of Wilful Missing) on mandolin and electric guitar. This experienced and talented mob bring extra spring and delicate beauty to Gary's excellent songs. The prime choices been the two cuts from his latest ep - 'Blue' and 'Green'.
Next up is Fran Rodgers. I've heard quite a lot about her and even own an ep but this was the first time I've caught her live. She starts quietly singing into the microphone and its difficult to tell if she's started or is soundchecking. Slowly though she builds up the song using a loop station to create layers of beautiful singing. She's also not adverse to putting some effects on her voice. Its fair to say that she's slightly more experimental than the rest of the bill tonight which is not to say that the music is not accessible. The performance seems a little rusty and its quite downbeat but personally I enjoyed it.
There seem to be two givens to any performance I witness of Joseph and David. Firstly the line up of the band is never the same. Tonight is the first I've seen with a drummer. Even though its less than a week since the last performance they seem to have matured. Perhaps the sound is better? Anyway even though they have an ever expanding line up the music is still textured and dynamic with the musicians concentrating on what is required for the song rather than hogging the spotlight. The second given seems to be that they will unplug and jump off the stage to play their final song. This too is the best performance I've heard yet - special mention to the trombone and Kieron O'Malley's backing vocals.
Finally we have Arthur Rigby and his mob. Now I've been aware of this particular group for a couple of years (James Hamilton erstwhile Hope and Social trumpeteer plays with them) but to my everlasting shame this is the first time I've seen 'em. It could be the four pints of bitter but I'm rather blown away by the performance. This is a big band (guitar, bass, drums, keyboards, violin and a three piece brass section) and its a big sound. Arthur Rigby himself has a big voice (reminiscent of the guy out of Divine Comedy & I also thought a bit of the Wild Beasts second vocalist). The songs are soaring and anthemic.
Thinking about it tonight's theme seemed to be about a big sound. Gary Stewart's ever expanding band; Fran Rodgers looping herself to swell the noise Joseph and David's ambition and of course Arthur Rigby's gang.
Slow Club/Michele Stodart @ The Hop, Wakefield
There's a lot to love about the Hop. Its a purpose built (or rather restored since the building already existed) music venue about twenty minutes walk from my house which puts on good acts and serves real ale. What could be better? However sometimes the sound can leave something to be desired and tonight is one of those nights.
Tonight starts with me presenting my ticket at the door just as the last note of the first act - The Spills - hangs in the air. The normally very reliable Mrs Windbag had got her timings wrong. Apparently when the ticket said 7.30 pm it didn't mean 7.30 for 8.15. It means first band will be on at 7.30! Good old rock n roll the only predictable thing is the unpredictable nature of it all.
Anyway the first act I catch is Michele Stodart. You may know her as the bassist of the Magic Numbers (her brother is the singer). She plays a lovely set of country tinged ballads interlaced with the odd mild rocker. She was accompanied by a feller on acoustic guitar and my suspicion was that the dodgy looking pickup in his guitar was the cause of an annoying intermittent buzzing noise. I also felt that the sound was turned up too loud. To be fair it was the sort of set which often gets talked over by the audience but for whatever reason you could have heard a pin drop tonight as the crowd hung on every note.
I think I've mentioned before that I love Slow Club. However as they played there first couple of numbers I was a bit concerned that this might be a forgettable performance. Charles and Rebecca looked a bit down in the mouth; and the sound was all over the place with everything apart from the vocals (which is their strongest suit) sounding too loud. Gradually though the soundman started to get it all under control and the duo started looking happier. I sometimes forget how naturally funny Rebecca is. By the end they have the audience eating out of their hands. A quick straw poll of my aquaitances comes back positive as well.
Thomas J Speight/Ruby Mackintosh/Josh Fowler @ The Hop, Wakefield
For the second night in a row I turn up at the Hop just as the opening act is finishing up. This time I catch about one and a half songs. From what I witnessed Josh Fowler was quite promising. He accompanied himself on both acoustic guitar and bass drum which is reasonably novel.
Anyway I certainly caught Ruby Mackintosh. She mixes covers with her own material and everything has a fifties flavour (the covers include 'Fever' and 'Heartbreak Hotel'). She's got a great way with lyric writing whether it be putting people down ('See You Later Alligator'), expressing her love ('Wild Horses') or talking about the hopes, fears and ambitions we had as kids ('Strawberry Raspberry Gooseberry Jam').
Its only a couple of weeks since we saw Thomas J Speight at a Communion night in Leeds. This time he has his full band with him. The crowd is pretty sparse and made up mainly of friends of the support act but Thomas's quality is obvious from the fact that after half a song the annoying chatter at the back has stopped. His musical style is nothing radical but the songs and their arrangements are very strong. He's keen to connect with the audience as well. Something that he demonstrates by getting the band to unplug and play in the middle of the dance floor. Admittedly he did the same thing two weeks ago in Oporto and such gestures are pretty common amongst such acts. Still it doesn't lessen the enjoyment.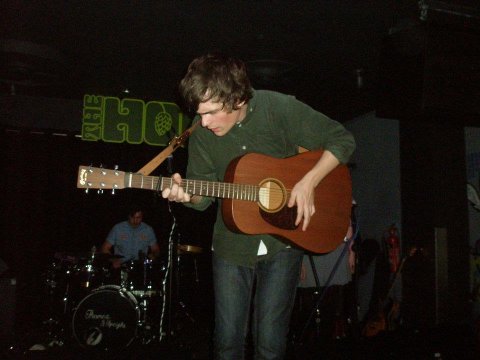 Overall the night was a bit reminiscent of an even sparser attended gig at the same venue about a year and a quarter ago. The headliner on that occasion, Dry the River, have gone onto bigger and better things - with a sell out gig at the Brudenell in the offing. I wouldn't be surprised if Thomas and his gang did something similar.
Ellen and The Escapades/Paper Aeroplanes/Spirit of John @ Brudenell Social Club, Leeds
What a great night! I suspect the five pints of Escapadale may have had something to do with it. Tonight was Ellen and The Escapades official album launch party and the aforementioned beer was on tap. Very tasty it was too.
I knew it was going to be a good night from the point when I saw the various members of Spirit of John coming out of the dressing room. Apparently Sam Airey who was going to play had pulled out. Which is strange since he was manning the door. Anyway Spirit of John were a great replacement. Following on from a review in the NME they seem to be gaining momentum. It was great to see them in a bigger venue and having told my many companions how good they were I was very pleased that the boys didn't let me down. They were their usual frantic and ramshackle selves playing as if their life depended on it. As usual Kieron O'Malley jumped on board about 3 songs in with his fiddle to add extra fizz to the mix. For those that don't know they play breakneck country songs with a hint of rockabilly provided by Adam's double bass and quiff.
Paper Aeroplanes also have a double bass player but this is where the similarities end. That's not to say that Paper Aeroplanes weren't good. In fact they were excellent. They played a precise gentle acoustic pop which kind of reminded me of 10,000 Maniacs. The female singer had a great voice as well.
So what can I say about Ellen and the Escapades that I haven't said before in my gig diary? Of course they were excellent as always. They unveiled their Tears for Fears cover and gave 'Cast', the final song on their album, its live debut. For a band that I didn't rate the first couple of times I saw them they've come a long way in my eyes. Just goes to show that first impressions aren't always to be trusted.
Christiaan Webb/Joshua Caole/Laish/Ben Pike @ The Gaslight Club,Oporto, Leeds
Tonight is the fourth birthday party for the Gaslight Club. Its amazing that its been going so long.
Gary Stewart is away on bassist duties with Ellen and the Escapades so Ben Pike steps into the breach as opening act and compere for the night. Ben is a blues guitarist who manages to combine amazing virtuosity with an organic soulful approach. I've not seen him play for a couple of years. He's not playing the most original form of music and I'm not sure I'd either buy an album but there's no doubting that he's a really good live act. After a few tunes on his acoustic guitar he switches to a strange looking instrument which he tells us is a cross between a sitar and a lap steel. In fact the sound he coaxes out of it is exactly as you would expect such a mongrel instrument to sound.
The first act proper are Laish from Brighton. They consist of traditional guitar, bass and drums supplemented with a violinist and a woman playing the clarinet and accordion. I like the sound they make but the songs are pretty non-descript. Its kind of folky with the extra instruments filling out the sound nicely.
Next up is Joshua Caole. This guy is not in any way original but I really like his songs. He's very much in the standard alt-country style to the extent that a couple of his songs were almost re-writes of Ryan Adams' numbers. He played solo and then was joined by a backing band called the Kids who gave him very sympathetic backing.
Finally we had the headliner Christiaan Webb. Joshua Caole and the Kids acted as his backing band with Webb playing piano. To be honest I found him pretty dull. All the songs sounded pretty similar and were of a similar tempo. In a very minor way Webb is a name on the music scene. His father is a famous songwriter (Jimmy Webb) and he was in a rated band called the Webb Brothers. Despite this I thought he was the worst act of the night.
Ryan Adams/Jason Isbell @ City Hall, Sheffield
Last year witnessed one of the low points of my time going to gigs. I actually had to miss a gig so that I could go to work! The band in question were the Drive By Truckers, a band who I have yet to witness live. So tonight was a very small bit of compensation.
Jason Isbell used to be a member of the Drive by Truckers and he contributed some great songs. Tonight he's in Sheffield toting an acoustic guitar and opening for Ryan Adams. He claims that he comes from Sheffield in Alabhama. While I'm sure its true a bit of me can't help but wonder if he does this every night ('you're not going to believe this but I actually come from Tunbridge Wells, Alabhama).
Isbell's set is an excellent balance of songs from his solo records and the odd gem from his previous band. The highlight of the set for me was 'Danko/Manuel'. But there wasn't really a duff moment in his set.
I can't make my mind up about Ryan Adams state of mind. His he just happier these days or is it that he hates playing Manchester. I've seen Adams on quite a few occasions. Every time I've seen him in Manchester there seems to be some sort of drama with somebody in the crowd barracking or him just been moody. Even last year he still seemed a bit edgy in Manchester but later the same year in York he was fine. So I'm choosing to blame it all on Manchester. So much to answer for as Morrissey used to sing.
Anyway tonight was, as usual, a strong performance by Adams. He seems to have come to terms with his back catalogue now and will play most of his 'greatest hits' these days. He mixes in some songs from his latest album as well. The highlight for me was his downbeat piano interpretation of 'New York New York'. He also chucked in an improvised song about a girl coughing in the audience which was reasonably clever. The low point was his monologue to his cat and his 'sense of humor' which just flies straight over my head. Still everybody else thought he was hillarious so we'll have to put it down to my lack of humour.