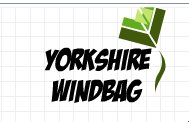 Record Store Day 2012/The City Consumes Us Book Launch
The Spills/Michael Ainsley @ That's Entertainment, Wakefield
Despite the name 'That's Entertainment' is not the sort of establishment I'd expect to experience a gig in. I first came across it at Christmas and basically its a downmarket HMV. It sells the same stuff (CDs, DVDs and Computer Games) only at knock down prices. Not that I'm complaining I got two Boo Radleys albums for a quid each a few weeks back.
So its not as credible as Jumbo and Crash over in Leeds. But fair play to them they did what HMV didn't do and got into the spirit of 'Record Store Day' and got some bands in to play.
So when me & Mrs Windbag arrive Michael Ainsley is already on. He's sat on the floor with his partner in crime Harry Rhodes and not even making use of any amplification. Tim from St Gregory Orange also joins in. Its pleasant enough but not really an accurate reflection of the awesomeness of Michael's album. Google him on Bandcamp and get yourself a copy!
I then intended to dash off but we get talking to some friends and before we know it the Spills are on. Its a slimmed down pairing of just Rob and Chad playing acoustic guitars. Now my recollections of these guys is a noisy bunch with little acquaintance with tunes. So I've got to confess to being gob smacked by the quality of the music. I can hear the melodies and the little guitar interplays are really good and Rob sings quite nicely. A real revelation to me from a band who I normally try and avoid if I'm honest.
It was also great to see people who were in the shop buying stuff popping over to have a listen and tapping their toes. For whatever reason the Rhubarb Bomb/Philiphobia records scene can feel a bit self absorbed and insular. So it was great to see the Wakey public getting a look and even seeming to enjoy it.
The Spills/Piskie Sits/Mi Mye/St Gregory Orange/Runaround Kids/Jamiesaysmile/Imp/The Passing Fancy/One Day After School @ The Orangery, Wakefield
So after a bite to eat we are off to the Orangery for our second gig of the day. This one is a book launch. The book in question is 'The City Consumes us'. This is a kind of compilation of the first five years of local Wakefield fanzine 'The Rhubarb Bomb'. In celebration there is a kind of mini festival going on. Dean Freeman the current editor of 'the Rhubarb Bomb' seems to be the main organiser of the event. Dean is a master at putting together interesting musical events (He's one of the main architects of Long Division). As well as bands inside there are various performances outside; a bar; some beautiful baking (provided by Dean's mum); A Dj with vinyl records; a mix CD exchange and a Philphobia records store.
The first performance appropiately enough comes from Dean's own band - One Day After School. If I'm going to be honest the only notable thing about the performance is the fact that the band has two bassists. Its pretty much standard issue indie music - loud.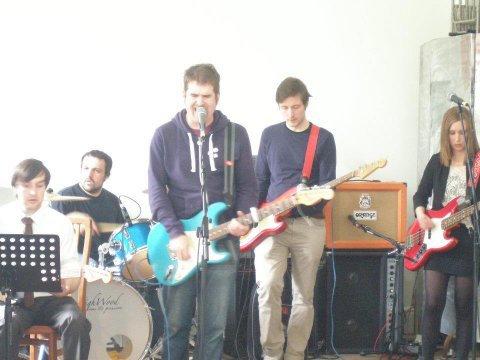 Next up is a trip out to the front of the building to watch the Passing Fancy. I've not been overwhelmed by these in the past but on this occasion the setting seems to suit them. There are two of them armed with acoustic guitars. The songs are simple and pleasant with a fifties skiffle feel to some of them. The singer's easy charm and innuendo laced lyrics are the stars of the show though.
Very surprisingly the gig is actually ahead of schedule at this point so there is a delay before our next band. Imp are yet another band who's music has passed between my ears without leaving an impression. However on this occasion it all seems to come together. Their use of keyboards marks them out as slightly different and there are some good tunes. They are probably the tightest of the bands playing inside (this may be because its still early and nobody has drank in earnest yet).
After another break Dean leads us all to 'the Secret Garden' for the next performance. 'The Secret Garden' is actually just the garden round the back of the Orangery and to be honest it wasn't that hard to find. Our artist is Jamiesayssmile who is actually the drummer out of One Day after School. This is apparently his debut gig. He gives a very competent performance. The songs are a bit 'emo' to my ears but are pretty strong. Jamie is a very engaging character as well.
Then its back inside for Runaround Kids. To be honest these guys are well thought of but I'm not convinced. They are a threesome and they certainly can play. However I'm not really hearing any songs. Its just a noise at the moment. However I've felt this way about other acts and sometimes it requires repeated listening on my part to hear what others get on first listen.
Next up is another trip to a secret venue. This one is a bit more out of the way. We go through a hedge and down into a walled off arch in a viaduct. The venue has been prepared with something like a hundred tealight candles. St Gregory Orange are the artists on show. This is an acoustic performance with Harry and Tim playing songs mainly off their new album. Given that this act is normally very much based around laptops and electronics its a bit different. It works really well. The songs sound much poppier than their earlier stuff and Tim surprises me with the quality of his singing.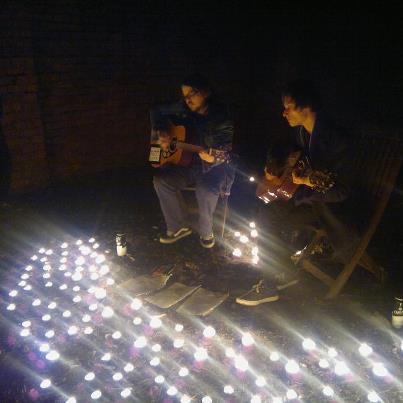 Back Inside another act playing songs off his new album is Jamie Lockhart other wise known as Mi Mye. The sound is a bit dodgy - possibly because Jamie is the soundman and can't adjust things like he can for the other artists. Anyway I think the new songs need a couple more listens for me to get to grips with them. The highlight for me is older song 'Two Sunrises'.
We are in the final lap now and Piskie Sits probably get the biggest crowd of the day for their performance. I must admit to always find this gang slightly disappointing live. A lot of the subtlety of their records seems get lost in the desire to play loud and fast. Still 'What is the Point'; 'Big Fat Mouth' and 'Churp Churp' sound pretty good.
Headliners are the Spills giving their second performance of the day. This time though we get the full four piece in all their electric glory. Once again, like the Piskie Sits, there's a definite feeling for me that a lot of the qualities of their music are lost at expense of more volume. It doesn't help that Chad takes more vocals and to be honest he's more an acquired taste to my ears.
Overall though its been a great day. A chance to catch up with friends and meet new people. As usual Dean Freeman and his cohorts excel with their creativity and integrity. Me & Mrs Windbag pick a couple of interesting mix Cds from the exchange. The one I choose contains a Cockney Rejects track which means it must have been compiled by one Liam Tyrell. Later I receive a text from Harry Rhodes - he's got the short straw ending up with the Yorkshire Windbag collection.
The City Consumes Us
As an avid reader it hasn't taken me long to consume 'The City Consumes Us'. A very good read it is as well.
Loosely its a compliation of the best bits of the first five years of the Rhubarb Bomb fanzine. In actual fact though its also a history of certain aspects of the current Wakefield music scene. And also a dissection of the same scene. It ends with a thought provoking piece from Dean Freeman speculating as to what will happen in the future.
One of the great things for me is that this book is about people that I know of and in some cases regularly meet up and chat with. Rather than just talking about the music full credit is given to the movers and shakers who make the scene happen. I'm talking about the promoters, record label organisers, fanzine writers, sound men and recording studio engineers. These people are as equally important as the artists and without them nothing would happen.
Its clear from the book that there is a close knit community of artists. However it can feel a bit insular at times and although several of the artists have progressed very well its clear that new blood is not coming through that quickly. Most of the bands reviewed in the early issues of 'Rhubarb Bomb' are the same bands covered five years later.
My personal view is that at the moment the scene is quite vibrant but because of the cliquey nature its in the process of consuming itself. Its too dependent on a small group of creatives who make things happen. I'm thinking primarily of Dean Freeman, Rob P and Jamie Lockhart. Without fresh blood both in the audience and the music makers it will begin to stagnate.
To compare it with Leeds is perhaps a little unfair but apart from the scale being bigger I think the big difference with Leeds is the quality of the music makers. I think this is because the pool is much wider both in terms of population size and the sizeable number of students. To its credit the book recognises that the closure of Bretton College which spawned a fair number of bands will probably have an impact on Wakefield.
The shadow of the Cribs has to be breached as well. I know that several of the musicians in Wakefield are not particularly big fans of the Cribs but never the less their influence is there. I personally am not a big fan of their music. However you cannot deny their energy, integrity and their ambition. Although they are careful to acknowledge and nurture their Wakefield roots they want to get out and take on the World. To some extent I don't feel this is true of the 'Philiphobia' artists who have followed in their footsteps.
This is the ultimate dichotomy. For great music to come out of Wakefield we have to be willing to let it go. Someone once said 'That if you hold onto something too hard you've already lost it' (actually I've got a horrible feeling that it may be a U2 lyric!!). I would like to see a turnover of bands like you see in Leeds. Bands like Wild Beasts, Blue Roses, Grammatics, Pulled Apart By Horses, Dinosaur Pile Up etc don't stick around for ever but they burn brightly for a while and then split or move away. The best will always acknowledge where they came from and if they don't well they weren't worth sticking with anyway.