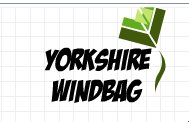 Memoirs of a Blue Snorkel Coated Punk Rocker part 3
Looking back at my fifteen year old self with the benefit of over twenty five years experience (that's a quarter of a century - gulp!) I have mixed feelings. On the one hand I understand why I was the way I was but on the other hand I feel sad that I was so anxious and shy when there was no real need to be. There I was shut away in my room as much as possible as life went by all around me. And even when there were opportunities to try something new I fought against it as much as I could.
Going to gigs was a case in point. Steve was dead keen to get to a gig. His older brothers were going to them already. I remember one Friday night Steve rang me. His brother had tickets to see the Skids in Wakefield but couldn't make it - did I want to go with Steve? My heart was pounding. How could I get out of this. I'd better check with my mum was the only thing I could think of. Unbelievably my mum wouldn't let me go - I know that sounds odd but my mum was usually pretty happy for us to do this sort of thing. I was relieved but also strangely annoyed.
Unity Hall
Steve didn't lose heart though. He had heard that 999 (a, deservedly in my opinion, forgotten punk band of the late seventies/early eighties) were to play Wakefield Unity Hall. Would I like to go? He lent me a tape to listen to as well. To be honest with you I didn't really rate them having listened to them. However I didn't want to look too much of a wuss so I decided to be economical with the truth. I said although I was keen to go to see 999 I'd heard the Damned were also due to play Wakefield Unity Hall soon. I couldn't afford both so I had to hold off for the Damned. In fact there was some truth to this. Johnny Hemsley had mentioned this very rumour. However most bands played the Unity Hall once and once only so it seemed a little unlikely that the Damned having played there twice would play a third time. So once again I was off the hook and with what little street cred I had intact.
A couple of weeks later I got a phone call from Steve. Basically he had something very exciting to show me and I had to get round to his house sharpish. When I arrived he opened a copy of the NME (yet another new development that I couldn't keep pace with) and showed me the advert for the Damned at Wakefield Unity Hall. Well that was it I was caught bang to rights. Before I knew it we were heading into town to buy our tickets.
According to the tickets the doors were due to open at 7.30pm. So of course we were down there for 7pm. Why I don't know. I mean we had tickets so they were always going to let us in. I guess it was probably our school boy mentality - don't be late. Anyway it wasn't just us. We were well down a queue of mohicans, punks and skinheads. A pretty normal looking bloke and his young son joined the queue just behind us. He seemed ancient but was probably in his late twenties or early thirties. I was relieved to see someone who I could at least relate to.
The advertised 7.30 opening time came and went. We seemed to wait outside forever - in reality it was probably about 8pm by the time we got in. Me and Steve went straight for the balcony so we could have a good view of the performances. The aforementioned normal bloke and his son sat just in front of us.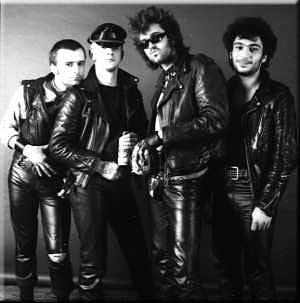 The Anti Nowhere League
After another interminable wait the lights went down and the support band came on stage. The lead singer of this band looked very much like my idea of a hell's angel. He was all in leather with an axe strapped to his waist and a chain in each hand. When he spoke he proceeded to swear to a shocking degree. I was used to my school friends swearing but it was a bit shocking to hear this level of obscenity and from an adult! The music itself was pretty dull cartoon punk. It then occurred to me to wonder what the dad and kid in front of us were making of it all. Well after a while it became clear that they'd left. Perhaps they went downstairs for a different view? Anyway eventually the 'performance' was over. That was it my first ever live band. Thankfully we were clued up enough to realise that this wasn't the Damned (although I genuinely had no idea what the Damned looked like at this stage). In fact the support were the Anti Nowhere League and they would go on to make a small wave of notoriety for themselves with their swearing and antics.
Next we had another interminable wait. I don't know whether things have improved or whether I'm less impatient now but I'm sure there used to be much more messing about between bands back in the eighties. Eventually the lights dimmed again. A bloke in a stripey shirt, beret and sunglasses came on stage and started swearing (so far this seemed to be the key part of the live performance). He was followed in quick succession by the rest of the band. They stormed into their opening song. This was more like it. The sheer noise and the spectacle was brilliant. To back it up the Damned had loads of great songs and a couple of great frontmen in Dave Vanian and Captain Sensible (the afore- mentioned beret wearing obscenity mouther).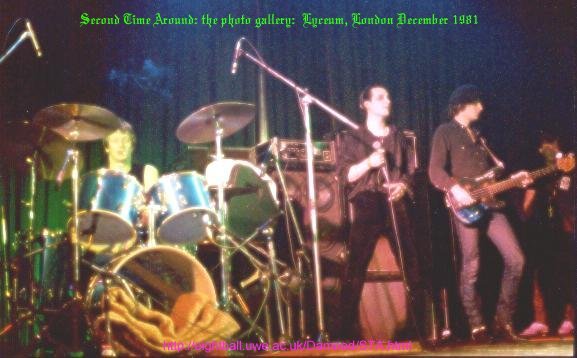 The Damned
Too soon it was all over and we went outside and met up with my dad who had agreed to pick us up. I was completely exhilarated. I'd done it I'd gone to a gig and not only lived to tell the tale but was pretty much unharmed apart from been partially deaf.
I suppose I should tell you that I learnt my lesson and henceforward stopped been so scared of doing anything different and learned to enjoy myself like any normal person would. Sad to say even to this day I still worry and fret about the smallest things that anybody else would be looking forward to. Ask anybody who's ever seen me before I boarded a plane anywhere.
A slightly amusing post script to this story was that my dad had seen all the punks coming out of the gig. He was amazed at the sights with mohicans (with at least one wearing a kilt), skinheads and punks of all descriptions. He'd obviously told my mum about it. Several months later me & Steve went to another gig at Unity Hall (I think it was Theatre of Hate). My mum suggested that my dad could give us a lift which was a bit unusual. Not only that but she was coming with us! Rather than taking the normal route to drop us off on Westgate my dad took a route round the back of Wakefield and of course this enabled him and mum to get a really good view of all the assorted people queueing up for the gig. The real reason for my mum's act of charity.