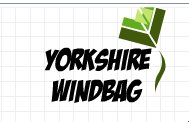 The three of us were sat in Andy's car, in one of the fields that make up the car parks. Me, Dunc and Andy himself all swore there and then that we were never coming back to Glastonbury again. It was only Saturday afternoon but the hot sun, crowds of people and the lack of anywhere comfortable to sit had driven us back to the shelter of the car where shade, solitude and a nice seat were all available.
I can't speak for Andy but to this day neither I nor Dunc have been back to Glastonbury since that weekend. In total I've been there three times and never really enjoyed it at all. Well that's not actually quite true the final Sunday was pretty good but maybe it was because I knew it was my last day there.
Of course Glastonbury is not the only festival. Over the years I've been to quite a few but never spent more than a single day at any one since my last Glastonbury. The idea of camping doesn't really appeal. The whole comfort thing is one issue. I remember a guy I knew down south saying to me 'Glastonbury's great you don't have to wash all weekend!'. Then there's the golden hour thing. What's the golden hour I hear you ask? Well its the time between 6am when the reggae sound system in the next field finally closes down and 7am when the kids in the tent next door get up! And frankly after a while been in the company of hundreds of my fellow human beings makes me want to run off and become an hermit.
Then in 2007 me & Mrs Windbag went to two festivals which were near enough civilisation that we could stay in a hotel and visit the site during the day. One was in Madrid, the other was in Leicester. The Leicester one is called Summer Sundae and we've become so enarmoured of it that this year was our third trip.
I'll tell you more about the feel of Summer Sundae later but for now let me tell you about some of the acts that we saw there this weekend. I decided in advance that I was going to write one sentence, no more or less, on each of the acts so here we go with Friday's bill: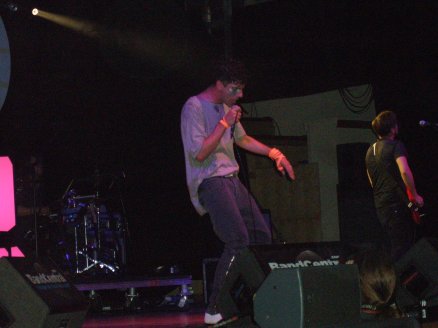 Dan Black mid dance
Kid British are lippy, Specials aping, health & safety baiting, BNP dissing pop kids who maybe going somewhere.

Mixing epic soundscapes, the odd mid-song tempo change and traces of folk; My Latest Novel were very enjoyable.

Oi Va Voi occupy the space where tasteful soul pop , ska and mournful klemzer music meet.

Dan Black, equally happy dancing geekily and playing catchy electro pop.

Suprisingly affecting indie pop from the Mystery Jets

As Mum sing they are 'So beautiful' with their eclectic, eccentric and always euphoric tunes.

A fine headlining set from Idlewild who have come a long way from the ragged punk band I saw in a support slot at the Reading Alleycat last century.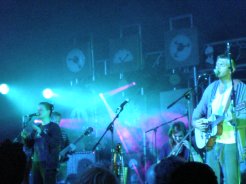 Mum been either eclectic, eccentric or euphoric