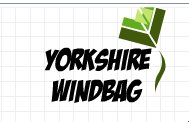 My first outdoor gig proper (not the Wombles) was a bit of an eye opener. It was way back in 1984 just after I'd finished my A levels. A year or two previously there had been an outdoor thing at Nostell Priory (a place near Wakefield) and it had been quite successful featuring acts like Jethro Tull and Marillion (very much prog rock). Somebody had decided to have an entire weekend event the following year. I wouldn't have been interested except that the Damned (who were my favourite band at this time) were headlining the first night. So me & Steve decided to go and as luck would have it Steve's sister lived nearby so we could go and crash at her house. Even in those days I wasn't fancying camping.
The first shock was as we entered the campsite. Apart from attending sporadic punk gigs I hadn't had much exposure to alternative culture at this stage of my life. We had to walk through a field of stalls to get to the main field. This field was full of what I would describe as hippies. However I wasn't a feeling a lot of peace and love off this dodgy looking crowd. Also walking through the field just in front of was a police man in full uniform. As he strolled through the field he was pelted with eggs and all sorts of stuff. By the time he'd got to the end of the field he was virtually all white. He seemed still to be smiling. These days he'd have been straight onto his radio for back up I'm sure. But nothing seemed to happen.
After this the rest of the gig passed off relatively incident free - Captain Sensible didn't turn up and there was a moment where the band stopped playing and asked everybody to step back to stop the crush at the front. Pretty much like any punk gig I'd been to. There was a sinister looking bloke I noticed at one point who appeared to have one arm and an axe strapped to his side though.
So I was pretty gob smacked the next day to see that the event had made the front page of the Yorkshire Evening Post and not in the 'jolly japes at the Leeds Festival' way you often see these days. No apparently there'd been rioting, mayhem, drug dealing and all sorts going on. Most of the story I couldn't confirm or deny (although I'm pretty certain there was plenty of drug dealing going on) but there was one mention about an evil drug dealer type bloke with an axe who apparently jumped on the stage during the Damned's set and ordered the crowd back. Now I knew for a fact that that hadn't happened. My already shaky confidence in the press was shattered. Worst still I had explaining to do to my mum and dad.
Woodpigeon on a big stage
Needless to say that Summer Sundae is a far more sedate affair. In fact apart from my first couple of trips to Glastonbury where there were dodgy scallies everywhere robbing from people's tents and selling knock off warm beer out of the back of transit vans nothing has quite matched my first festival for thrills and spills.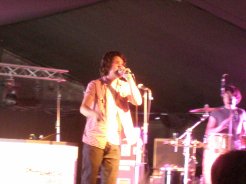 Skint & Demoralised is a poet and he does know it
Anyway here are my reviews for Sunday at Summer Sundae.
Free Control are a pleasant start to the day with excellent muscianship and nice sounds though the occasionally jazzy bits by the pianist were a bit annoying.

Kevin Hewick is a fifty something bloke fulfilling his lifelong ambition to play on the De Montford Stage with some aplomb but no great songs.

Maybe She will sounded nice enough as I flicked at the Sunday papers

Woodpigeon were folky and a bit strange (in a good way) and finished with an Abba cover

Martin Bigpig was in his element baiting and entertaining the crowd in the Comedy tent in equal measures

Wakey boy Matt Abott and his band Skint and Demoralised did his hometown proud with his lively set of poetry and music.

Another set from Woodpigeon slightly more chaotic, much more intimate and probably all the better for both.

Amazingly Bon Iver manages to hang onto the ethereal beauty that I love despite playing a huge stage (and having to compete with the guys behind me and their inane chatter).

Imelda May is proper old school with her tight as hell band of bruisers playing rockabilly and blues

Some people like the Zutons but not me

The New Beautiful South finish off the festival in mellow fashion, who'd have thought they had so many hits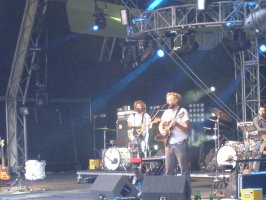 The ever ethereal Bon Iver
And then that was it there's no more music and its back to reality and Yorkshire tomorrow. With the football season having started it feels like the first leaves of autumn are about to fall.