Its that time of the year when all the music magazines are coming up with their top albums and such like of the year.

So here are a couple of compilations covering some of my favourite musical bits of 2009.

These songs cover some of my favourite gigs and albums and songs of 2009. Click on the tape images to take you to the detail.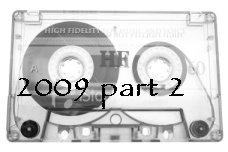 With only 16 songs available I couldn't cover everything and in an ideal world I would have included the following artists:

Animal Collective, Florence and the Machine, The Proclaimers, Sketches, Delta Spirit, Hey Negrita, Gary Stewart, Broken Family Band, The Barker Band, Roger Davies, Broken Records, Jeremy Warmsley, Headwater, Richmond Fontaine, Rosie Doonan,The Antlers, Dana Wylie Band, The Clientele, Beth Jeans Houghton, The Drums