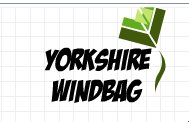 Its probably a sign of my age but if you said 'Belfast' to me I'd immediately have a million bad images in my head. People chucking petrol bombs, troops at roadblocks in streets, orange marches, militaristic IRA funerals, broken glass and tribal hate.
A few weeks ago me & Mrs Windbag flew out to Belfast. Its actually somewhere that I've been interested in going to for a while. A big reason for this is the images I described in my introduction. It was over a decade ago now that peace came back to Northern Ireland but still my childhood (and adult) images were of a very different place to the one that we visited.
Of course there was an ulterior motive for our visit and it was the 'Open House' Americana music festival which is held in September in Belfast every year. More of that in a minute.
Oddly a great compliment that I can pay Belfast is that its just a normal regional city in the British Isles. Just like Newcastle, Cardiff or indeed Leeds. The chief impression I came away with was how friendly all the people we met were. Even the waitress, who didn't get a tip due to a mixture of shortage of change and incompetence on my part (I could have put it on my card if I'd thought), smiled and said hello to us later when we saw her again. Right from the bus driver from the airport through to the guys and gals we met at the gigs everybody was kind and happy to pass the time in conversation with non-descript tourist with no ulterior motive.
We didn't do much sightseeing (which means we've got an excuse to go back) but we did the obligatory open top bus tour which was interesting and informative. We got to see quite a few of the political murals on both the Shankhill and Falls Road. What amazed me was the quality and inventiveness of the art work not withstanding that a lot of them supported questionable causes and messages.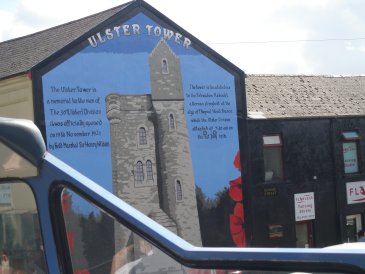 Overall the impression I got of the people of Belfast is that they are so different from the extremists and blowhards we used to see on the telly. Normal people wanting to get on with their lives just like everybody else. Outside the hardline areas such as the aforementioned Shankhill and Falls Road the only people still living the sectarian life seem to be the extreme elements attaching themselves to Rangers & Celtic in Glasgow. Its such a shame that the only time Ulster gets on the news is when there's trouble and that most people won't get to see what a down to earth normal place it really is.
So to the festival itself. It was a series of gigs and events rather than one unified event. We only attended gigs in the main marquee and its attendant 'grounds'. There were lots of smaller gigs in clubs and pubs featuring artists on the way up (eg Lissie, Villagers) and local muscians as well as traditional music sessions. Maybe next time we'll explore some of that kind of thing as well.
The first night we attended was a seated affair featuring three laid back but talented acts. Nathaniel Rateliff kicked things off. The Low Anthem carried it on with a great set swapping instruments and harmonies with abandon. Iron and Wine were worthy headliners. Its hard to put your finger on what makes them so good. The tunes aren't what you'd call earworms that you can't get rid of. There isn't a great variety in the style of music. But the music is utterly involving and before you know it the set is over.
We then took a night off to explore the nightlife of Belfast at our leisure. In the end we just took in 'The Crown' (the most touristy pub in town) and a curry.
Friday night was Wilco which was what first attracted to me to going to Belfast in the first place. Wilco don't play many UK gigs. Last year they played Leeds and London. This year even London didn't get a gig. This was their first gig ever in Belfast as well! The first support were Field Music from Sunderland who are a great recent find for me and Mrs Windbag. They are lead by two brothers who alternate between drumming and singing (while playing guitar and piano). Their set is full of short sharp post-punk type songs which variously remind me of Wire, Talking Heads and XTC. There's a weird angular funk about some of the songs and its all very punchy with great harmonies and muscular bass lines. As you can tell I'm very taken by them.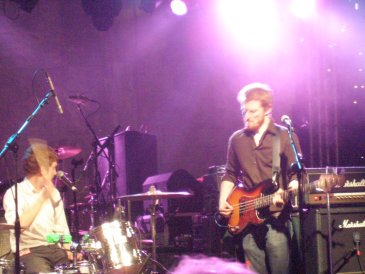 The next support, Felice Brothers, were one of the few disappointments of the weekend. I quite like their albums but although they've got great stage presence and a ragged charm they don't really back it up with enough good songs (the between bands dj didn't do them any favours by playing some great records before hand including the Band, Ryan Adams, Bo Diddley and Creedence Clearwater Revival).
Wilco though were immense. They had no new album to plug so basically we got a set which trawled their extensive back catalogue and combined all the favourites with a few unexpected gems. I spent half the night in awe watching Nels Cline jumping about like a kid half his age making some great noise out of his electric guitar (I'm definitley going to get myself an electric guitar now!). Highlights were Glenn Kotche going all 'Heavy Metal Drummer' on us wearing a bandana and standing on his bass drum; Jeff Tweedy not been at all grumpy and Pat Sansome doing Pete Townshend windmills during his guitar bits in the encore. They even played 'California Stars' which is one of me and Mrs Windbag's 'songs'. They played over two hours as well.
Saturday night was a bit of an unknown quantity. First act Joe Pug is apparently a highly rated singer songwriter. To me he was just the same-old same-old sensitive american bloke with acoustic guitar. I've seen equally good acts in pubs and bars across West Yorkshire.
The Dave Rawlings Machine is the kind of thing that a dyed in the wool Americana fan would get very excited about. Basically Dave Rawlings is Mr Gillian Welch (apparently pronounced Ghillian rather than Jillian) and in turn Gillian Welch is a very well respected alt country star. She also plays in the Dave Rawlings Machine. Whilst not been completely blown away it as to be said that these guys can play and it was a good set.
Old Crow Medicine Show were the headliners and are another band I knew nothing about a few months ago (I did take the precaution of getting one of their albums before getting tickets). They were absolutely awesome. They played proper old fashioned country, bluesgrass, old time and various forms of American folk music. They did it with a real energy and I've not seen so many people dancing (properly not jumping up and down or waving their arms about a bit) at a gig before. All in all a great finish to the festival for us (Sea sick Steve was playing the next night but we've been there seen that and strolled off to see something more interesting before).