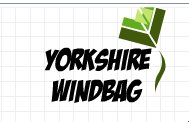 Stuff I love - Oliver Cross
Its a common thing for me to feel sorry for those of you not living in Yorkshire. You miss so much. There's the fish & chips; the great music; the proximity to the mighty Leeds United and of course the chance to read the Yorkshire Evening Post on a daily basis.
The Yorkshire Evening Post is an important periodical in Yorkshire Windbag's household. For starters it contains comprehensive coverage of both Leeds United and Yorkshire County Cricket. Two things close to my heart. On Saturday's they review local pubs and recommend local walks. On Thursday there's a double page on the local music scene and a review of a local eaterie. But best of all on Friday they have Oliver Cross's column.
I'm sure we are all familiar with the idea of columnists in newspapers. Basically its a cheap way to fill a bit of room in said paper by getting one of your bone-idle staff to contribute a bit more. The Yorkshire Evening Post have columnists on most days. To be honest with you I have a soft spot for them all except for a woman called Debbie Leigh who been female and in her twenties says 'nothing to me about my life' to quote Morrissey. I don't dislike her its just that our lifestyles are too far apart.
Out of them all though Oliver Cross stands supreme. The great thing about his column is that he writes for those amongst us who aren't taking life by the scruff of the neck and cutting a swathe through the world. Instead Oliver is muddling through getting things wrong and having the occasional minor triumph.
It has to be said that he would appear to have an interesting and lively social life. He spends a lot of it in a pub in Leeds called the Chemic Tavern which sounds absolutely brilliant the way he describes it. Full of interesting and friendly people with a community spirit. He also seems to spend a lot of time gallivanting abroad. Although he always seems to be going to Eastern European countries rather than glamorous and exotic locations.
One of the great things about his column is that rather than the hectoring style picked by a lot of columnists in the major newspapers (think Littlejohn in the Sun for example) he has a warm inclusive understanding sort of approach. He doesn't see society as broken and the world going to hell in a handcart. Instead he sees a world where misunderstandings happen and mistakes are made.
That's not to say that he's a tame writer. He is not averse to pricking the pomposity of the sort of people who deserve a good kicking - marketing people, people who talk in management speak, the Tories. Its just that he does it in a subtle understated way.
If more people took Oliver Cross as their role model I'm convinced the world would be a better place. Hopefully you can see that he is a big influence on me.
Take a look here (for all you people who don't live in Yorkshire): http://www.yorkshireeveningpost.co.uk/sectionhome.aspx?sectionID=4478