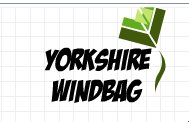 I love going off to gigs all over the country (and even the odd time out of the country). Why only the other week, as you may already have read, I was off in Belfast listening to some great music. It is nice though, once in a while, to just take a stroll down the road to see some great live music instead.
So it was an entirely pleasurable experience to recently spend two nights at gigs in Wakefield. To make things even better they were contrasting in venue, audience and style of music. Most importantly though both were excellent nights out.
The first night was spent at Henry Boon's which is one of the best pubs on the infamous Westgate run. The two artists playing were two unknown (to me) Canadians. The night was been promoted by the Cotton brothers who go by the name of 'On The Ride'. I don't know much about these two except that they have a very good track record when it comes to putting on quality gigs.
The two artists were called Amelia Curran and Justin Rutledge. Both faced the audience with just an acoustic guitar, a voice and a sackful of songs. Rutledge was probably the more acomplished of the two. He certainly had the better voice. To even things up though Curran's 'The Mistress' was probably the song of the night. Both came across as very genuine with good between songs patter. How good was the gig? - well I came away having bought albums by both artists.
The audience was of the middle aged variety and very attentive (which isn't always the case at these sort of gigs). It wasn't really the sort of gig if you wanted to get up and dance. The devotion that these kind of fairly obscure artists can inspire was indicated by the presence of a couple from the Wirral who'd driven over specially and had also been to Sheffield to see Justin Rutledge.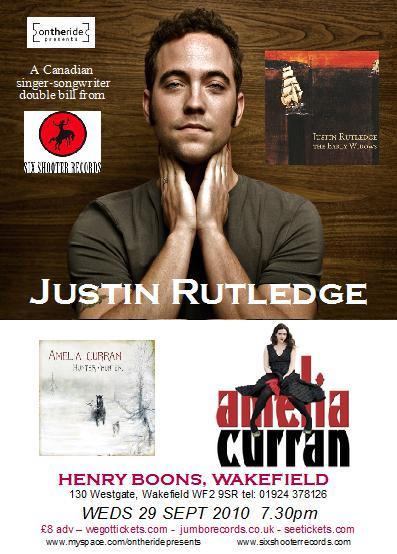 The next night was a much rowdier affair down the Graziers. The audience was mainly made up of young 'uns in their early twenties. Probably mates of our erstwhile promoter Jonny the Firth who gets his second mention in these (virtual) pages in a row. He's calling the night 'The Cattle Market' and they've got some little props such as bales of hay and a little gate and saddle.
Due to a weak chest Jonny couldn't play so instead we were treated to Gary Stewart. Obviously I've seen the guy a few thousand times but it was interesting to see how nervous he was in front of a rowdy young audience in Wakefield. He sacked all the slow songs from his set and concentrated on playing loud and fast. After two songs he was already out of breath. He made it to the end though and made friends if not album sales.
Next up was Ryan Spendlove. This is a guy who I can heartily recommend to music lovers of all ages and tastes. In his day he has been a heart throb in the NME as leadsinger with the Blueskins in the early 2000's. These days though he plies his trade has a singer songwriter with an acoustic guitar and one of the best voices in West Yorkshire. His music varies from laid back pop with his cover of 'Somewhere over the Rainbow' all the way to the rowdy righteous blues of 'Pretty Polly'. Special mention has to go to a new (to my ears anyway) song called 'Silicon Puppies' which combines some great cynical lyrics with a catchy tune.
Finishing off the night were the Grand (who were formerly known as Shakeshudder). I've never seen these guys before but I'll be looking out for them from now on. Like all classic three piece bands (guitar, bass, drums) the absence of a second six string guitar gives the bassist room to make his presence felt. There are powerful vocals (mainly from the bassist) and epic tunes with a hint of early U2. They've got a new ep out soon so look out for them.