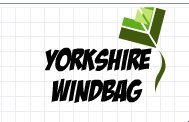 Interview with Jonny Firth
Yorkshire Windbag: How did Knuckle get started?
Jonny Firth: Knuckle started on Halloween about 5 years ago. It started because Crybaby were booked into to play in Huddersfield with a band called Steve Albino and the Lovesock who had Ben on the drums and Rob dressed as a Gorilla playing sax. Rosie had to pull out because she got a job with Peter Gabriel. I had to step and in and do my one man band act. After the gig Ben came up to me and said ĎI like your songs do you fancy getting a band together?í† Iíd always fancied doing a two piece so I said Ďyeahí and we had a jam the day after and we wrote about 12 songs in one day. We did the Knuckle stuff for 3 years Ė all the tours and that stuff. Then my writing kind of changed and it became less riff based and more chord based. So Rob just seemed like a no brainer because he came to all the gigs and Iíd always wanted a bass player who was actually a guitarist. Rob came on board and we became a 3 piece.
YW: So you didnít know Ben or Rob before?
JF: No
YW: But you went to college in Huddersfield?
JF: No. My mum lives in Huddersfield. My other half went off to college in Falmouth and I moved back in with my mum. I was a bit of a lost soul. So it (Knuckle) was kind of my saviour.
YW: Ejector Seat and all that?
JF: Yeah all the upset inside of me came out in the first Knuckle stuff.
YW: Your lyrics some of them seem quite throwaway Ė for example ĎWilliamí off your first album. You once told me that those lyrics donít mean anything. But Iíve noticed that some of your lyrics Ė Ejector Seat especially - but also Just the Way Iím Feeling seem to be about your mental state
JF: Yeah I think what happened was that I always write about what Iím feeling. My dad passed away when I was 24. I was drumming in bands then. I went into a deep depression and I didnít really leave the house for quite a long time. My mum bought me a 8 track because I wasnít good at writing things down or talking to people. So I just started writing songs on this 8 track and it became my best friend really. Then years later I got diagnosed with bi-polar. I think mental health and being creative, kind of, comes in hand in hand for me and it just fuels the fire for my lyrics.
Its really weird with my lyrics because I only ever pick up the guitar when I get a feeling and I donít know what the lyrics are going to be. But as soon as lyrics come out of my mouth they become the basis for a song. Whatever lyrics come straight to mind I use and then sometimes I add lyrics on or sometimes itís a fully formed song.
William was just one of those songs that popped into my head one day and I got it down. It felt throw away at the time but looking back it was like my subconcious mind was taking over and writing for me instead of my rational mind. So now Iíve started looking back at it I think maybe my mind was trying to tell me something. So theyíve all got meaning.
YW: I have a similar theory about dreams. That your brain is trying to tell you something.
JF: Yeah I used to have very vivid dreams when I was a kid and right up to now my dreams are absolutely crazy. Its like dťjŗ vu. Have you ever had dťjŗ vu? Where you thought Ė thatís happened before? When you go back and analyse it Ė its like a snapshot where your brain takes a quick picture and then it fades away really fast and if you donít remember it then its gone.
I have a lot of repetitive dreams that have come into one now. I have this one dream that I go into thisÖ I call it a holy place. I have to climb all these steps. When I get there sometimes Iím too scared to go in. Sometimes its like a pyramid and sometimes itís a waterfall and Iím too scared to go in. Once Iíve stepped into this space it feels like it might open Ė its like pandoraís box. I never go in but Iím getting closer. Iíve had it for years but it feels like Iím getting closer to the door.
YW: Rob & Ben. How big a part do they play in the songwriting?
JF: †I kind of go in with the songs already prepared. Itís only this last time. I had ĎLifeís hard when youíre soft insideí. I had the chorus and I had some really crazy lyrics. So I asked Rob to kind of help with the verses. Heís really good is Rob. He knows how chords progress so he always suggests something that I wouldnít have thought of. So he kind of got in my head a bit and tried to write like I write. First time I got lyrics from someone else in Knuckle.
YW: Interesting because I think in that song the verse and chorus are quite different from each other.
JF: Yeah he wrote most of the verses. I just added little bits. I wrote the chorus but he kind of wrote the rest of it.
YW: I think that songís a bit psychedelic in a 60s sort of way.
JF: At first I wrote that song and I was living in France. I wrote a lot of that album when I was living in France. But weirdly I wanted to write a Spanish song Ė Mariachi style.
YW: The whole album seems to me like every song is in a different style.
JF: What I wanted to do. All the songs were written at the same time Ė so they were all on the same track but instead of picking songs that all sounded very similar. Iím a sucker for all the Beatles stuff thatís really eclectic. Those albums are so powerful. Because they stay true to the art. Like letís do this, who says we have to do it that way. You listen to coming out now Ė all these artists have been told by their record label write like this. It kind of loses its soul. Whereas an album like ĎLife is hardí becomes like a person Ė it has all these different personalities Ė I want to make it like a full album with like different elements of somebodyís brain.
YW: It starts off like Iíd expect with Spilt Milk and Cardboard Cutout where you think yeah thatís Knuckle. But then it goes off into other stuff.
Also it feels a bit fuller. If you look back at William and Just the Way Iím Feeling and you have a verse and then a chorus and maybe the same verse again and then the chorus. It felt like the songs werenít fully developed whereas these feel fully developed.
JF: Yeah definitely. That comes from working with Rosie and starting to work with Rob. What happened with me is that I get stuck on a verse and a chorus. The initial things and then Iíd kind of get lazy and I canít write anymore. And I just wanted to document it as a snapshot of then. But now obviously Iím progressing and Iím getting more time in the studio and more time with Rob. With Crybaby Iíd have 80% of it and then Rosie would finish it off like it was a picture that needed a frame. I can provide the picture or the frame but never the whole thing. Its like a breath of fresh air giving it to somebody else and saying right what do you think? Doing that has allowed me to start writing fuller songs I think.
I went round to Robís house and weíd structure a song. And then Iíd write some more lyrics or Rob would throw some lyrics in. Rob wrote the verses to ĎLife is hardí and he also got some words in ĎCash and Carryí.†
YW: I really like the words to that one. Was Ďlooking at the bras in the Argos catalogueí his?
JF: He kind of put two lines in each verse because there were bits I couldnít finish off. Looking for bras in the Argos Catalogue before the internet that was mine. That came from Ė I was spewing out lyrics. But it was kind of dark. But I didnít want it to be too dark too fucked up. I wanted more play on words. Robís words are more light hearted.
ÖSome discussion ensued about whether it should be Argos or Littlewoods catalogues. Ultimately Littlewoods didnít scan right apparentlyÖ
YW: Can you tell me some of the musical influences on this album?
I thought Spilt Milk reminded me a little of US hardcore like Husker Du. But Iím not sure you listen to that sort of thing.
JF: Its kind of a Brexit song. I wanted to write a 70s punk song. That 70s kind of song but I had no bands in mind. I donít listen to a lot of bands but I do get a genre in my head. So its my interpretation of what a punk political song would sound like.
I wanted to use simple and repetivite words because I was talking to a guy about this I donít really understand Brexit and its too complex for me. So I wanted something simple and thatís where that came along.
They say you canít polish a turd but you can roll it in glitter. That always tickles me. Thatís what it seems like politicians are trying to do with Brexit.
YW: Going back to Cash and Carry again Ė to me thereís quite a lot of Red Hot Chili peppers in that one.
JF: Yeah actually I bought a Strat in France and I started writing that style. I normally like a fuzzy sound but then I like the sound of the Strat.
YW: When the lyrics come in it reminds me a bit of John Cooper Clarke.
JF: I get Arctic Monkeys quite a lot Ė maybe its just the Yorkshire accent. I donít try to do it. Iíve never really listened to John Cooper Clarke. So its just a fluke.
YW: On the second side 2n2 reminds me a bit of Led Zep although I guess you could also say Black Keys or White Stripes.
JF: Weíre all massive Zepplin fans. I wanted to write an ACDC style song. Some lyrics I had when I was in France.
YW: I think its good that you are quite raw. Some people spend ages picking the right words but you just chuck em out there.
JF: You know what. I donít listen to a lot of bands. You can tell when theyíre contrived. Old blues songs Ė they really mean it. I hate it when lyrics are contrived.
I sometimes like stuff where the lyrics donít really make sense Ė its more a feeling. I always try to be loyal to the song that Iíve written. I donít like to become contrived. When it gets contrived I stop. Its like trying to write a song that isnít there.
YW: Whatís your personal favourite on the album?
JF: One of my favourites is ĎRewind the Feelingí. Itís a bit different to how it was at the start. Its kind of a conversation I had with one of my gay mates who got a lot of stick in the 80s and also one of my cousins in the 90s who got a lot of stick for being a drug addict.
You remember you used to have to rewind the tape? Its like me trying to say to them I wish I could rewind that time back for them so they could be more liberal to themselves. I wish I could rewind it and go back and beat up all them bullies for them or educate people about drugs and sexuality.
I went to bed drunk in France and woke up had another beer and then wrote those lyrics.
I just pluck lyrics out of the air. Its lyrics that my conscious mind donít even know. I come up with these lyrics and for some reason I remember them. Often I donít even write them down. Mainly cos I canít read my own writing but also I always remember them. I forget what I had for tea but I always remember the lyrics.
YW: What are your hopes for the album?
JF: To be honest Iíve done with it already. Weíve written 7 songs in rehearsal recently. Iíve fallen out of love with the album but fallen back in love with the older songs. We recorded it in August last year (2018).
Sometimes though I go back and think Ė shit thatís really good.
YW: Your second ep seemed have a different style to the first one. Is that when Rob came into Knuckle?
JF: Thatís when Rob came in yeah. I was working on the lifts and I didnít really like it. We had about 10 songs for the ep but we only recorded some of them.
YW: The Dole years documents your feeling on that job maybe?
JF: Yeah definitely. That always goes down well. We started finishing with that one
YW: I like my girlfriend is a werewolf Ė the way you start ĎMy girlfriendí and then repeat it.
JF: That was an accident. I started in the wrong place. Sometimes to get my pitch in I start a bar earlier. Itís a trick I picked up off Rosie in the studio because sometimes you start and you are in the wrong pitch. When we played it back it sounded really good.
YW: Would you say Knuckle is the thing now or could you see yourself going back to the one man band or even some new projects?
JF: Well it used to be the case that Iíd bring a song in but it might not be seen as a Knuckle song. But since Rob came in we have votes now. So Ben gets voted down cos heís a drummer.
YW: If Iím been honest apart from Ejector Seat. I didnít hear too many tunes on the 1st ep although I did like it. For me it was a massive leap from the 1st to the 2nd ep.
JF: Yeah I think some people think that Knuckle is just a heavy band but I like to throw people a curve ball. I like it when bandís donít do what you expect. We might go back and one day we might be a two piece again you never know. I said to the lads I write like this but if you donít like it I can put it on a solo record. But theyíve said weíd rather it was on a Knuckle record. I just want to be loyal to my kind of writing. I want it to be whatever it is. This album isnít really the essential Knuckle sound Ė but if people like it they like it. If they donítÖ it doesnít matter.
YW: I think itís the best thing youíve ever done. I did like both your official solo albums though. With Crybaby I thought they were great live but bar the odd song Iíve never really listened to the cds that much.
JF: Yeah that was a transition for both me and Rosie. From my solo stuff. Great live band. It was exciting and we wrote everything really quick. It was a really cool journey though. I think Iíve matured since then.
YW: I think your vocals and guitar playing have also matured
JF: Yeah I think before I never really knew what I was doing. I like playing chords now. Iíd always class myself as a bass player who plays guitar. I donít really dig doing solos. So my idea probably would be to bring another member into Knuckle and keep growing.
YW: Anything in particular a keyboard player or another guitar?
JF: Keyboard or guitar or somebody who can play both. So I can enjoy singing more and not worry about solos
YW: So youíd be more like a front man?
JF:† Ugh maybe I donít know. I just donít like doing solos.
YW: I donít think you have much fat on your songs.
JF: I like songs that are 3 minutes tops. If it goes beyond 3 mins I start to think we have to cut something. I think peopleís attention spans and mine are shorter. If songs donít get me straight away I donít get them. Soul and blues songs are 2 and a half minutes long. They get straight to the point. Make you feel how you are supposed to feel and then its done and its on to the next one. Thatís what I want to do. I just want people to have a feeling. Get a buzz out of it and get the right feeling and then onto the next one. And the next one will make you feel a different emotion.
YW: At one time you had 3 different projects going at once Ė solo, Knuckle and Crybaby and I wondered how you decided which song went to which project?
JF: I canít remember Ė I just had so many songs. We tried them and sometimes it didnít work and so that song would go to another project. I donít know how I managed with all those gigs. I did about 250 gigs in one year. I did 2 gigs in one night sometimes. I kind of learned how to get better on stage. I can get through a gig even if itís the shittest sound ever.
Now though I just want to play decent gigs. Sometimes I feel a bit tired of it. I need a bit of a rest.
YW: Youíve got jobs as well -so it must be hard to fit music around them?
JF: I was out gigging 5 nights a week. Drinking 5 nights a week. I wasnít looking after myself and partying too much. It causes problems with relationships. I realised that going out doing all these gigs is it worth losing the woman that I love?
Thatís why Iíve tried to get proper jobs. I made a lot of money gigging but Iíd spend it all in that night. It was counter productive but I wouldnít take it back. I enjoyed it. People tell me about gigs and I think I canít actually remember that.
YW: God knows how many Ďlastí gigs Iíve been to in your various guises. Iíve been to quite a few last ever Ďone man bandí ones.
JF: I got sick of it. Carrying all my gear. But then Iíd get offered loads of money to do one and Iíd just be persuaded into doing it. I do want to stop it Ė but somebody always persuades me.
YW: I remember the last Knuckle gig ever. That was at Oporto before you went to France.
JF: If I get something in my head Iím a bit impulsive. I was going to France. I felt like I didnít really want to come back. But then I realised that not rehearsing and not gigging had an impact on me. Being in a band with the lads. Theyíre like me best mates. Knuckle gigs and rehearsals are my nights out and they are good for my mental health.
YW: They seem to be relatively sensible for musicians.
JF: They keep me grounded. Knuckle rehearsals is my bit of escapism.
YW: Its good that you are still writing new material. Iíve seen bands that had really good sets but 10 years down the line they are still doing the same sets.
JF: Yeah we do it for our own interest. We sometimes have really long sets so we do the old stuff still.
YW: You always seem to have stood slightly apart from the ĎWakey sceneí.
JF: Iíve never been part of any scenes. Iíve always had friends in other cities Ė Wakefield, Leeds, Sheffield, Huddersfield. I always think that the Philiphobia bands were the Wakefield scene and I wasnít part of that.
I was in university in Wolverhampton when the Cribs and all that kicked off. And I was always playing more bluesey stuff. I had my own journey.
YW: So what made you finally release something on Philiphobia?
JF: Iíve always wanted to do Philiphobia. But its never been the right time. But this time it seems right. Being one of the first artists for the next 10 years of Philliphobia.
And on that note I let Jonny get back to his life whilst I prayed that my digital recorder that Iíd bought about 10 years ago (for an interview with Jon Gomm that never happened for Sandman magazine) had worked on its maiden outing.