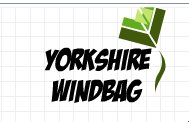 'There is so much joy in what we do'. So says Craig Finn of the Hold Steady without fail during 'Killer Parties' the epic end to their live set. Its a quote that could equally apply to Hope and Social and their gigs.
As I've already mentioned Hope and Social have recently played my house. A fact that I'm still trying to come to terms with in my mind.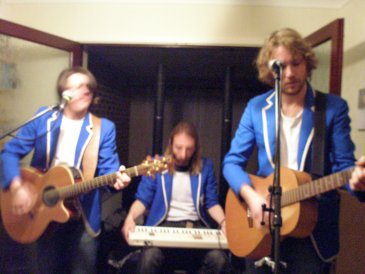 I'll be honest with you. When I get a bee in my bonnet about a band I feel the need to share the beauty, the energy and the excitement with everybody I know. So most of my friends and acquaintances have got pretty sick of Hope and Social without hearing a note. So it was extremely gratifying to talk to people at our house after the band had played. I think my joint favourites were as follows: Annette berated me for not telling her about this brilliant band before (I had to point out to her that I'd invited her to come along and see 'em on numerous occasions); and Michael Wright's shock at how professional it all sounded (what did he expect - kids banging saucepans while people played paper and comb? - that's more Rich Pollard's taste)
Its only just over a year since I first saw Hope and Social live. Read about it here. I can honestly say that even that first brief gig highlighted them to me as a band worth keeping an eye on.
So what makes them so good? I think there are a few factors:
1) The music. With this band there are a lot of extracurricular things going on. However that would mean absolutely nowt if there weren't some cracking songs to hang their live set round. If I was to select three songs that you should listen to I would say.
Firstly 'Red Red Rose' which is the de facto single from their album 'Architect Of This Church'. There's a deceptive jauntiness to this song and when they get the brass joining it reminds me a little of classic Waterboys (big music era). Recently Si has taken to beginning it with a glorious snatch of Prefab Sprout's 'When Love breaks Down'
Secondly 'Sunlight Hold Me'. This is their epic. A kind of second cousin to Elbow's 'Newborn'. This song can bring me close to tears at the sheer beauty of Ed's keyboard sheen, Si's rant against 'the useless chains' and Rich's guitar heroics. Then when the song comes crashing to the end we are just left with Jase's bassline. Live they often chuck in a load of Blue Nile's 'Downtown Lights' with bottleneck guitar as well.
Thirdly 'Buzzer Goes' which most people will know as 'the one with the kazoos'. A simple anthem raging against the futility of the working life. I particularly love the brass on this and listen carefully and you'll here Si laugh during the recorded version.
2) Audience participation. Hope and Social are very aware of the Social side of their name. The live performance almost always includes the audience. Sometimes this takes quite traditional forms. Getting everybody to sing the chorus to 'Red Red Rose' for instance. However they prefer to use slightly less orthodox approaches. The two set pieces that most people will know are the brilliantly batty attempt to bring the spirit of Rod Stewart to the party and of course the kazoo orchestra during 'Buzzer Goes'. On other occasions there have been more spontaneous events like the time the audience were dragged up to play kazoo on stage and were then given an ovation from the watching band or when slightly dodgy Queen/Nuremberg rally style hand actions were added to the singalong of 'Red Red Rose'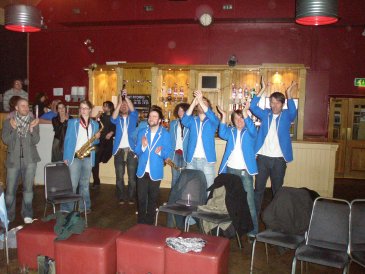 3) Humor. Although the lyrics are serious and the music is epic there is no room for po-facedness in the world of Hope and Social. They have a particular delight in talking about diarroeah and accidents involving people's anuses and sharp objects. What do you expect? Hope and Social is eleven years old!
4) Musicality. This band can really play and sing as well. They also have the ability to improvise on the spot.
5) Showmanship. You don't tend to join a band if you are a shrinking violet. These guys are show offs in the nicest possible way. Rich in particular. If you get a chance request him to do his 'Soft beverages' rap. It is particularly impressive. My favourite though is Simon's habit of unplugging and playing 'Looking For Answers' unamplified. Usually quietens down the rowdiest audience. The exception to this been at a private party at Smokestack where some bloke continued with his dull conversation while everybody around him willed a slow agonising death on him.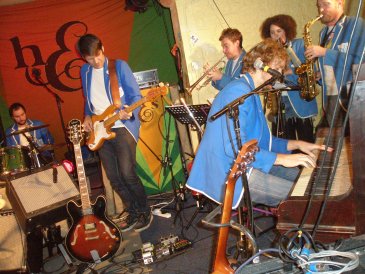 6) Lovely people. It might be that in the privacy of their homes that these guys are monsters. However if they are they hide it very well in public. From the first time I saw the band it was noticeable how friendly they are.
So the bottom line is that if you are not familiar with this band you need to get them into your life. Go to their website here. From their you can download their album for as little as 1p. You can also find out when they are playing live and get yourself along.