So here we are nearly at the end of another year older, battered, more depressed but are we any wiser?

Well the Yorkshire Windbag has learnt something since he last spoke to you (well two things if you include this weird 'referring to myself in the third person' type thing I seem to have dropped into).

I've always prided myself on been a pretty honest person and about a month back I found out why this was the case. To be blunt with you it turns out that I'm the world's worst liar!

Ok the sordid details are as follows. I was up in Scotland visiting my in-laws. It just so happened that my wife's cousin's stag do was taking place that very weekend having been delayed for some reason from a date when I couldn't make it. Anyway I agreed to attend. It sounded pretty dull to be frank - a ten pin bowling session, followed by a meal and a few drinks.

Of course like a fool I'd been taken in by the censored version that was fed to the womenfolk. So after the ten pin bowling and a so-so meal I found myself in a lap dancing place called 'Hooters' (accompanied by the other members of the stag party I might add). Most of the guys went off for some sort of show involving humilation of the stag and lots of naked female flesh. Been of a sensitive nature I wasn't keen on that sort of thing (not to mention the twenty quid price tag).

If you haven't been in a lap dancing place before you may be unaware that the idea is that you are taken away to a booth or some sort of room by a woman who then proceeds to do a personal 'dance' for you. So with most of the blokes away for the special entertainment extravaganza with the stag that left quite a few dancers and not many punters.

Very quickly an attractive young lady in skimpy underwear approached me and attempted to make small talk. Now I was very aware of her purpose and also not very keen to have a 'dance'. So not wanting to waste her time I abruptly explained to her that there was no point in talking to me as I was merely hanging about waiting for someone else. She took offence to this and stomped off declaring me 'very rude'.

I talked this unfortunate turn events over with one of my fellow stag party attendees. I decided that a more subtle approach needed to be taken. So I decided I would pretend to be gay! To be honest it was always going to be a bit of a struggle given my lack of sartorial elegance.

So soon enough another young lady approached me. So this time I played it cool. 'So what brings you here?' she asked me. 'Well its my wife's cousin's stag do' I explained. 'Anyway', I continued, 'I guess I ought to warn you that I'm gay'. Even as I came out with my well thought out story I realised there might be a bit of a hole in it what with me mentioning my wife in the previous sentence. Thankfully I didn't try to dig any deeper with a 'Did I say wife just now I actually meant husband' type line. In the end with the ice broken and what with things been so quiet we had quite a good chat. It has to be said though its a bit weird talking to somebody dressed in their scanties.

So anyway enough of this blathering. The meat of this issue can be found to the right of this column. This month's 'free' music is a double set to celebrate the previous year.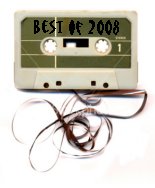 Yorkshire Windbag's choice of 2008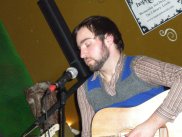 Gary Stewart live in Leeds

Blue Snorkel Punk Rocker part 1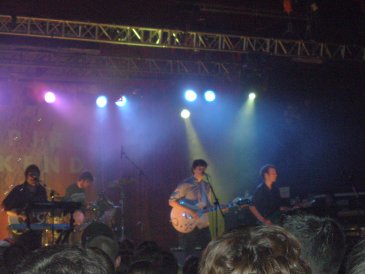 Vampire Weekend in Sheffield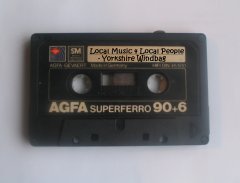 Chris Read's review of Issue 1's music

Back Issues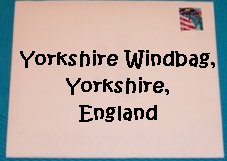 Send your comments, articles, insults, poetry, pictures, outpourings of love etc