What was your first festival/outside gig experience? Was it Hendrix mangling the US national anthem at Woodstock? Perhaps it was Bono and his amazing mullet at Live Aid? Maybe you had your perceptions permanently altered by Ian Brown's vocalising at Spike Island.

Whatever I think you'll find it hard to top my first experience! I'd better warn you now this story involves bad weather, near nudity and much embarrassment!

Back in the mid seventies I was the eldest of five kids (eventually there were nine). Needless to say my mum and dad are Catholics. Unsurprisingly they know other Catholics some of whom also have large families. One particular family the Smiths had six kids and a mini bus.

It seemed like a good idea for our two families to go off somewhere in this wonderful mode of transport. In those carefree (pre clunk click) days we could easily all fit into my dad's car (youngest on mum's knee in the front seat and the rest crammed in the back) so eleven kids and four adults in a mini bus would be a doddle

It just so happened that Roundhay Park in Leeds was the venue for an appearance by the latest pop sensation of the day. I am of course talking about the Wombles! Their big hit single 'Remember your a Womble!' was a staple of the record player at our house until after 177 consecutive plays one day mum snapped and demanded we stopped playing that bl**dy song!

So off we went in good spirits. It was a lovely Summer's day. My memory is hazy after all these years but as far as I can remember this was the first time that the kids from our two families had met. The Smith's were a bit older and most of them were at secondary school. As I mentioned earlier I'm the oldest in our family and I'd probably be about ten or eleven at the time.

We arrived at the park. We all got out of the mini bus and headed off to see the entertainment. There are differing accounts about what happened next. My brother Andy claimed to have seen the Wombles. Personally I have no recollection. All I remember is rain. Lots of it! Torrential! We were caught in a cloud burst. Everybody ran as swiftly as possible back to the mini bus. By the time we were back inside we were all soaked to the skin.

Then something horrific happened. 'Get your clothes off' said Mum. She had to be joking! Strip off in front of these strange people that we've never met before! Unfortunately she was deadly serious. So before we knew it the fifteen of us were all sitting in our underwear. My memory is of wearing a natty matching purple y fronts and vest combo in case you were wondering. I was mortified despite my young age so who knows how much pyschological damage was caused to the teenagers in the Smith family.

The car park we'd parked in was just a field and the deluge had managed to turn this into a mud bath. All around us cars were getting stuck. So of course my Dad and Mr Smith did their good deeds for the day and climbed out of the mini bus and helped push hapless drivers out of the mud, dressed only in their y fronts!!

Eventually we got out of the car park and Mr Smith drove us back to Ossett. As he dropped us off outside our house he pipped his horn loudly alerting the neighbours to look out of their windows just in time to see our entire family running up our drive in our underwear!

Anyway the reason for this particular anecdote is because the latest Yorkshire Windbag is a Summer Sundae special. All about the music festival I've recently attended. I've also made an attempt at writing a (very) short story. So have a look and see what you think.

The Best of the music from Summer Sundae 2009

Dust (a short story)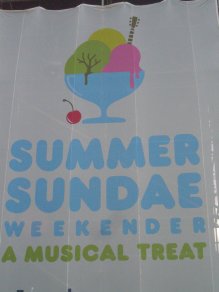 Friday at Summer Sundae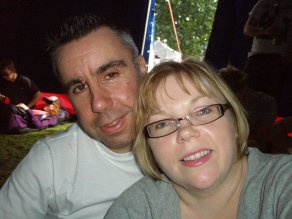 Saturday at Summer Sundae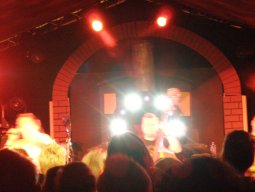 Sunday at Summer Sundae

Back Issues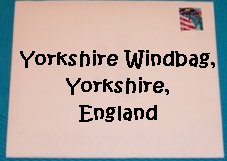 Send your comments, articles, insults, poetry, pictures, outpourings of love etc

The Credits